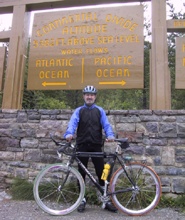 Day 2: Sunday, July 29, 2001 - Vermilion Pass to Banff
The fire felt so good the night before, when I got up to observe the stars at 0330, I filled the fuel box, hoping some coals would remain by 6:30 AM, when the camp would start to rouse. We needed an early start (so we thought), and a hearty fill at breakfast. Louise and Helen loaded us up with pancakes and sausage.
Slowly, Tent City emptied, the residents finding their shoes slightly cooked underneath the fire, their socks folded like surrealistic clocks across the laundry line, and our gloves all curly and stiff. Leaving at 8:30, Pat told us not to miss the Best Spring in the Rockies, about 11 miles up the broad valley of the teal colored Kootenay.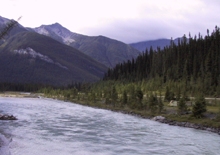 We sighted no wild life on this stage, and I sure never found that spring, but the skies were dry, the scenery awesome, and the riding smooth.
At Vermilion crossing, we rolled over the river. Past the lodge, I caught up with Fred and a few others, just as two other non-group riders were passing them. Fred and I took off with these two guys, who were on a time trial road trip.
"So, you guys training for Ironman Canada on those bikes?"
Seems they were, so I spent the next half hour up Sinclair Pass chewing the fat with them about the race, their training, and wondering why one of them (the slower), would have a triple chain ring on his time trial tri bike set up.
"Yeah, I want to be ready for Richter," he said. Richter Pass has a mythic status among Ironman racers from the West Coast and Canada, though I don't know why. It's about 7 miles long, 1200 vertical feet up, and rises in four stair steps, none more than two miles long. The whole thing is downright gentle compared to, say riding up to Paradise on Mt. Rainier, or Hurricane Ridge in the Olympics. But it seems to exist to break the spirit of flatland riders, coming as it does about half-way into the 112 mile bike leg. The real test is forty miles farther on, at Yellow Lake, a shorter, equally steep climb, which is either hot (98F in '99), or snowy (hailstorm and snow in '00), and comes when all you want to do is rest your legs for the marathon. We dropped this guy 3/4ths of the way up Vermilion.
Fred wanted his picture taken at the Continental Divide, so I obliged, getting quite chilled in the process. The warm furnace I'd fueled inside me all the way up the pass was evaporating rapidly in the thin windy air. Shivering, I pulled down my sleeves, whipped on my jacket, and fumbled for my balaclava. I needed every bit of it at our lunch stop, where we marveled at the antics of the Can USA riders trying out their tour company issue bikes in the parking lot. We felt a little superior having actually biked up the hill, rather than being shuttled.
Time for a brief down hill to Bow Valley Parkway. I couldn't keep up with Dave or Wally, both of whom claimed to have hit 50 mph on the way down. I couldn't do that if I added lead filled panniers to my rack. I tried to follow Dave down river in the tail wind to Banff, but he scooted ahead, leaving me to wander the back road by myself. The river looked a lot like the Kootenay .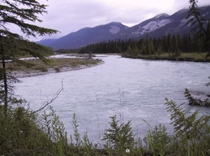 Along the way, I saw an osprey nest perched on a phone pole by the rail line at river's edge. And I wondered about the grey scabby bases of the aspen trees. I thought that might represent the depth of the winter snows, but learned from a roadside sign that elk like to eat the bark, and picked the trees clean from about 5 feet on down.
Once near Banff, we hit the freeway, and picked up speed, hitting 37 mph on the exit into town, My momentum was stopped by the widest cattle guard I've encountered. I actually had to dismount and carry my bike across, gingerly stepping on each cross beam for fear I might slip through and trap my foot. Into town, and on beyond, then up a serious, but short climb to an impressively large campground - over 1000 numbered sites, of which we had about 5 or 6.
We set up our tents in the usual friendly, haphazard fashion, which generated a visit from a Can Parks ranger.
"You folks will have to move your tents?" He intoned, without a hint of the usual friendly tone we've all come to expect from Canadians.
Tom headed the negotiations, and eventually learned that (a) only two tents per site); (b) the RV counted as a tent; and (c) we had to pitch them on the gravel , not the grass. The designated sites permitted our stakes to only go in about 2 inches before we hit what was either permafrost, cement, and massively impacted stones from years of pick ups parked there. No matter. We eventually got moved, showered, rested, and relaxed. Time to bring out the chairs.
Apparently I had missed the evolution of the camp chair over the past few years. Tour members started opening up their personal seats, starting with the simple single $12 Costco special. As each one umbrelled open, it had more features than the last. Cup holders; extra arm rests; a double seat; a double seat with dual cup holders; and, the piece-de resistance, Dale's folding foot rest. I felt foolish with my little director's chair, which had not one option for display and bragging.
As we waited for dinner, several of our party engaged in some gender conspiracy, laughing at their own private joke on the men of the party. After I took their picture the first time, they insisted I take another. I thought we were going to have buns for dinner, but it turned out they were making ravioli.
Evening saw a mad rush for town. I stayed behind, and swapped Tim Kneeland stories with the bears.
Total miles: 65; Vertical rise about 3100'; 60F, overcast.
Go on to the next day