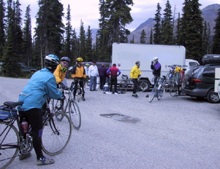 Day 5, Thursday August 2: Yeah, I'm Tired of Riding in the Cold, Too
Down at 3500', the night was warm. And we're so far north, that it got dark around 11 PM, and was light by 5:30. So we all got up, struck tents, and downed more pancakes, sausage, and coffee. Our plan: ferry back up to Sunwapta Pass, then head towards Bow Pass, and down hill a bit to the ominously named Mosquito Creek campground. Chief attraction of this campsite: it's near Lake Louise. Chief deficit: go back and read the name. Close second on the debit side: the altitude is 6000'.
Joan, Steve, and I rode up with Andy in the Isuzu Sound Machine. She became quite enamored of Andy's computer-based CD system, caching over 7000 individual song titles. I played "Stump the System", calling out obscure 70s and 80s B-sides to see if Andy had 'em stored on the multi-gigabyte hard drive. Yep, he had Culture Club, Boston, Oingo Boingo - you name, he had it, even if he'd never personallyh listened to it.
"What about 'Ode to Joy'?" I tried. He quickly switched to a symphonic Beethoven cut - not necessarily the 4th movement of the 9th, but close enough. I gave up.
Joan didn't. She started writing down a list of all the songs she wanted Andy to burn into her own personal CD. While they collaborated on the record up front, I turned to Steve, "Say, I bet when we get to Sunwapta Pass, someone will suggest we alter our plans. I mean, who wants to ride in this stuff, anyway?"
Outside, the mountain tops were socked in; a heavy mist smeared the windshield; the tiny mist droplets, combined with the 40F-ish temps would make downhill biking an exercise in hypothermia prevention.
Steve, ever the optimist, countered, "I don't know, it doesn't look so bad. I mean, it can't be worse than starting out yesterday and going down Bow Pass."
He was right; it had been about 5 deg colder, and windy, too. But, that was yesterday, and our appetite had been whetted by the sun and balmy evening down (up?/back?) at Jasper. I persisted. "You'll see; I predict we'll talk about one of two options. Either drive on to Lake Louise and spend the day there, or go over the pass to the final campsite, and spend two nights there."
When we popped out to meet the Harrington-mobile, while waiting for the truck and RV, Mike announced his proposal: Basically, it was plan B, drive to Bow Pass, speed down, then up and over and spend two night down at 4500', with a "free day" for rides/hikes/drives over there. Given the threat of rain (and the mere mention of the word "Mosquito"), we all quickly acquiesced.
So, we loaded up in the parking lot at Bow Pass. Downhill all the way, Yippee - or so we thought. A headwind, quite stiff, kept me pedaling in a low gear the whole way down. Only those in a pace line had any relief. Bees, not mosquitoes, greeted us when we hit the campground for lunch. From there, it was back to Lake Louise - almost. We had to hit the Highway 1 exit, going West, over the pass.
"Now, don't forget, make sure you stop to check out the double-barrel train hairpin tunnel," Jim warned.
"Huh?" I couldn't begin to describe just what this thing is - something about an over/under double tunnel hairpin turn so the trains, chugging up from the Columbia river valley, could make it up to the Continental divide. Seems that, in the midst of their efforts, they would wrap around themselves, and look a bit like a diesel powered snake about to strike at the mountains blocking their way. I dutifully stopped, and took a picture. Somewhere in there, you'll actually see the tracks and tunnel, but mostly, you'll see trees. At this point, however, my battery went dead, so the remainder of this journal will be all journalism, and no photo!
We tried to wave Steve into the turn out for the required tunnel view, but he seemed intent on getting first tracks into the wind to our next two nights' lodging. Once there, with our tents secure, we marveled at the trains which went by with startling regularity, all day and night, taking about five minutes to clear the mile running by our campground, into the first level of tunnels. Each was powered by three or four engines, latched on special just for the mile high climb. Nothing like the endless chug of a diesel to gently lull one to sleep.
Total miles: 38; Up 650'. down 3600' (My, we're getting soft!)
Briscoe, Ho-oh!