---
TOUR ACROSS AMERICA
---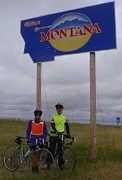 It's a big country, and Montana is a big state.We went from the SE to the NW corner, and ran a gamut of vacant prairie badlands through river bottoms to mountain fog and thunderstorms.The east is starkly desolate and strangely seductive.
In Broadus, we spent the night at the rodeo grounds, and were treated to an awesome sunset.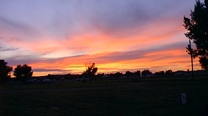 The ranchers took to decorating their gates with skulls. Must be a great place to go trick or treating.
---