---
TOUR ACROSS AMERICA
---
NIAGARA FALLS
An American (and Canadian) original. Niagara Falls has long drawn travellers, and oddballs - and travelling oddballs, like ourselves.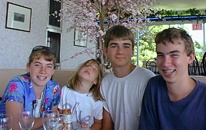 Annie looks so funny because she has just gone completely bonkers - total meltdown in the parking lot, which almost made us want to go home. But we rallied, and spent our honeymoon looking over the falls from every possible angle.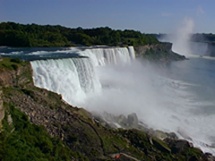 The day was so sunny, and the water so refreshing, Cheryl even started smiling again.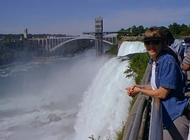 But then ... she ran the tire over the curb, exploding the rubber resulting in a three hour rest in another parking lot, waiting for the tow truck guys and the sunset.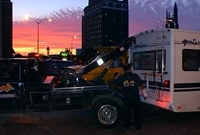 ---