June 29: Victoria, BC to Dosewallips, WA: Sunshine Sprint

Sunday was our day of rest. In the afternoon, I wandered Victoria, looking for a totem pole to match my biking shirt. I found the one above, and this one, enclosed in glass at the Museum of British Columbia:
The city was filled with festivals - a hippie fair, a food fair, a music fair, an art fair. It was like Bumbershoot, Folklife, and Taste of Tacoma all rolled into one. I was too tired to really enjoy it much. I wandered down to the "Wharf", the original dock on the Inner Harbor, in front of the Empress. Every 15 minutes, a Zodiac raft would race up to the dock, and disgorge a cadre of orange jump-suited whale watchers. I wondered if the Orcas really appreciated the super-charged catamaran-like boats whipping around them, "blinding" their sonar with the raucous outboard. At water's edge, buskers had set up shop, hoping for a few tourist coins. I sat in front of two very polite street musicians, young men on twin marimbas, playing classical songs, and saying "Thank you" softly, under the music, each time someone dropped some money in the upside down hat in front of them.
Later, most of us went out to eat together, giving me two photo ops. First, by the Wharf with the Empress in the background - I'm actually in this shot: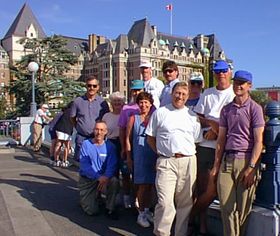 And then, at dinner, we gave ourselves a rather unique "toast" with the baked bread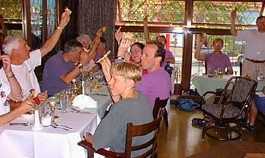 Next morning, the Black Ball Ferry Line took us to Port Angeles. Customs was even easier than entering Canada. I was near the end of the group; by the time I came up to the agent, he was causally waving through all the bikers. He never even saw my ID.
This, our last ferry, was certainly the best from the bike's point of view. Up front, real racks!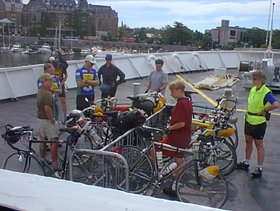 Back in the USA, the weather held clear. We docked beneath the north facing Olympic peaks, still snow capped from the winter (and last week's storm). 70 deg F, little wind,, not a cloud in the sky - just about perfect weather for our 62 mile shot into Dosewallips. I tried the first back road (Old Olympic Highway), but 101 was quiet, and the shoulder was clean and wide, and I met up with Greg and Dave (always a good addition to a pace line!). We ate at Gwenie's (I had a Beefalo Burger, Dave a tall shake) in Sequim, and then settled down into several hours of 20-22 mph cruising to Quilcene.
One fast bottle of Gatorade ( the temp there had reached 86 F), then up Walker hill for the final roll into camp. Once there, I got the opportunity to give Alf a little gift for all his work setting up the route and the accommodations. I wondered who to thank for the great weather.
Miles: 66; Total: 489