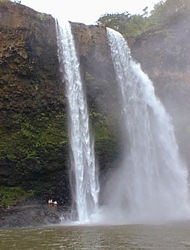 Day 2: Waimea Canyon
All right!! At last we get out to see Kauai!
But first, continental breakfast. Apparently, at this $250/night and up resort, they had not yet adopted a routine practice of most mid-priced motels, providing free morning snacks such as fruit, orange juice, coffee, cereals, donuts, etc. So, on April 1 (so read a card in our room), we now have the option of a FREE continental breakfast in "The Pointe" from 6-8:30 AM, instead of the $16 breakfast buffet in "Shells". So what do we get for FREE? Croissants, blueberry muffins, walnut/banana bread (Al's favorite, of course), and coffee. Oh, and they provide little jars of honey for tea drinkers, in which you can dip your (mini-) croissant for extra flavor. Oh well, at least there are fridges in the rooms, for orange juice and yoghurt.
By 8:30 AM, we had rounded up all the family, packed a day's worth of provisions, and headed west, with Cody driving. Stopping at McDonald's (Ann couldn't figure out why there were no hamburgers at 9 AM - SHE was hungry for one), we also picked up lunch/drinks at the Big Save. Then UP the hill to Waimea Canyon. This Big Gouge is carved on the dry side of the island from the flank of the 5,000 foot volcano, Wai'ale'ale ("the wettest place on earth"). It looks like a Disney diorama of the real Grand Canyon - so much like it that Mark Twain supposedly dubbed it the "Grand Canyon of the Pacific. Cheryl liked the view, and took her first pictures there. Shaine was willing to pose, of course.
On up the hill, we stopped for our big event of the day: a hike to a waterfall with yet another unpronounceable (or spellable) Hawaiian name. It was labeled "Fall" on the broken down State Park sign pointing the way. We hike a mile down a dirt road, getting our first real scents of the island - Shaine kept comparing it to California, Cheryl kept saying she couldn't smell anything, and Al kept marveling at how homey this exotic place seems - there were Rhododendrons, Himalaya Blackberry, eucalyptus trees, and many varieties of fir and pine. Everything did come from somewhere else, mostly by boat or fowl, I guess, so it all should look familiar.
The road turned into a trail, and skirted the edge of the Canyon. Here the dirt turned red, and the appearance was similar to Moab. Around the corner, we slid down the last slope, and arrived at - a stream! To the right was a 200 foot cliff, down which the stream fell. Cody sneaked over to the edge and reported that, yes there was indeed a waterfall there (Duh!), while Shaine and Annie went left, finding a secluded little pool with a miniature 20' waterfall, up which they climbed. Cheryl was not to be out done, so she climbed too. Cody, tired from his exertion looking over the falls, rested on a rock.
While we were there, the clouds built into black smudges, but at high noon, the sun still beat on us. The water in the pond was cool, and we lingered for a while. During our stay, several families of various sizes from 2-9 came and went. Guess we scared 'em off. But on the way back up, we saw a whole troop of little girls running down the trail, with towels flowing behind them like capes. Guess they knew what to do there. As we reached the Canyon overlook, misty drapes of rain started filtering up from the west. By the time we got back to the car, the rain had started in for good, probably swamping those who'd gone down behind us.
On up the road, we came to the Koke'e museum, where Ann ate a hot dog, Cody a BBQ sandwich, and the girls fed the wild chickens. Cheryl bought postcards, including one for her Dad (Duke), picturing the famous Hawaiian surf pioneer and Olympic swimming champ, Duke Kahanemaku, pictured in sepia in front of his 9' long board.
Two more miles to the end of the road, and the misty rain (rainy mist?) persisted, blocking the view of the Na Pali coast, 4,000 feet below. Supposedly the best view on the island, but we'll never know. Ann was happy, though, because she'd always wanted to be in a cloud, and wondered what it would be like (she imagined it was - literally - Heaven).
Back in the car, we started downhill, into a gully washer, which slowed us to 15 mph. Luckily for Cheryl, Al had taken over the driving from Cody, so she didn't have to bother the rest of us with her worries over his driving (actually, she thinks Cody is a better driver , or at least more careful, than Al).
At the top, it had been about 60 F, and drizzly; the rain then required us to keep our windows closed, and kept the air cool. So when we hit the bottom, and piled out at the Waimea brewing company, into the sun, it was somewhat of a shock to step into the heat of the afternoon . Off came the jackets, and in we trooped for a quick drink. Al ordered a beer, and Ann, not to be outdone, got a Sprite. The teen agers berated her for not drinking any of it. Shaine even took a picture of the glass to document how little she drank. Ann, a little shamed, conned her parents and sibs into drinking some of the Sprite, so we got a picture of the empty glass as well.
Further on in the town of Waimea, the stopped for Shave Ice at Jo-Jos, renowned as the best on the island. Fifty flavors, dispensed from bottles lined up like a latte stand. A mound of shaved ice, covered with coconut, strawberry, vanilla, cinnamon, chile pepper, mustard seed, whatever. For fifty cents extra, there's macadamia nut ice cream on the bottom. Cheryl got pictures of the whole event.
A block away, Ann and Al bought Red Dirt Shirts. Kauai is covered with tenacious red silt, giving it a very southwestern look. This dirt gets everywhere, and won't go away. Apparently, it works great as a dye, too. These two guys started a T-shirt company, dipping the shirts into buckets of the stuff, and covering the shirts with hand-drawn funky images. They've got a thriving business, now expanding all over the islands. The store we stopped at was their original, and retains the funk.
On into Hanapepe, the biggest little town on Kauai. Actually, Hanapepe is one of the places which decided to preserve its downtown buildings, This means that when Hurricane Iniki came thru in '92, they never re-built. There are a few neat little galleries, but by the time we got there, it was all closed up (5 PM - ?Island Time?). We did manage to find this truck planter by an odd looking coconut tree next to a store, converted from a gas station with the original pumps outside, selling painted surfboards and coconuts.
Finally, back to the beach, Ann got to play in the water again.
Day 3: Wailua Falls
Back to main page