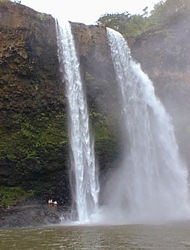 Day 5: Sunset Dreams
We bought cereal and milk yesterday - at last, a breakfast a mother can love! Also different, it's raining when we get up. Checking out the weather, we see a band of showers coming in from the northeast, so we drop plans for beach exploration, and head to the Spouting Horn.
Our guidebook, The Ultimate Guide to Kauai, lists only three "not to be missed" spots on the island, and this is one of them (the other two are Waimea Canyon, and Wailua Falls). And this one is just a mile down the road. It's a blowhole, an L-shaped tube through the lava at water's edge. Water flows into the base of the "L", then the force of a wave shoots water out the top like a geyser. Unlike Old Faithful, you don't have to wait an hour for this one to blow. Every 5-10 seconds, a new wave gives another show. But of course, some waves are stronger than others, and waiting for 10-15 minutes will reward you with some real monsters. Spouting Horn has three phases: first a narrow cylinder of spray, then a broad fountain, and finally a little burp at the end. All accompanied by a roar of air through an auxiliary hole, giving the "horn" sound unique to this blow hole.
Almost as intriguing, and much more beautiful, are the patterns created by waves along this lava beach. They are overshadowed, however, by the nine tables set up selling local crafts in the parking lot.
On the way home, we stop at Snorkel Bob's to pick up boogie boards for the girls, and flippers for Annie. Then, the sky having cleared, we troop off to a local beach for some serious snorkeling. Everybody sees fish, but it seems the older you are, the more interested you are in swimming among schools of bizarrely marked rainbow colored water dwellers. No tortoise today, though.
The kids need some time off from the parents, so we send out for pizza, and leave them Home Alone to their own devices. Cheryl and Al drive an hour to Polihali, the end of the road (to the west) for some quiet time, sunset watching, and nature contemplation. The road ends at the base of the Na Pali cliffs, the impassable northwest edge of Kauai. This is the place where other worldly spires drenched with green vegetation rise thousands of feet above the ocean, looking like strangely misplaced steeples overgrown with moss. Cheryl tries out her filters on the sunset; we have to wait 'til we get home to see the results.
Back at the ranch, the kids have invited a guest to the room to help them with the pizza. When she proves a poor conversationalist, they eat her.
Next Day
Back to Main Page