---
TOUR ACROSS AMERICA
---
INDIANA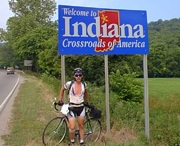 We stayed at a farm in SE Indiana. Shaine and Annie got to ride on a John Deere, but didn't get to wear the hat. Corn was everywhere.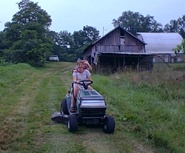 Down the road, in Hayden, we met a former governor of Indiana, Ed Whitcomb, who had returned to the home where he was born. He was restoring it to its original appearance, which basically meant not painting the outside for a few years. Cody helped him figure out how to run his email program.
Indianapolis is a big city - really! It annexed all of surrounding Marion County, so the city limits sign sits in the middle of a big corn field. We didn't hit town for another five miles.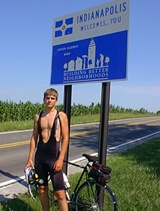 In western Indiana, we finally got to ride through a covered bridge. Ann by this time had learned to ride the tandem herself.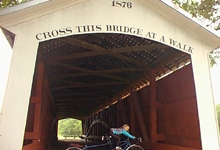 ---