---
TOUR ACROSS AMERICA
---
ILLINOIS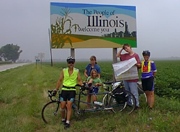 Illinois was flat. So the Leanin' Cowboy, whom we'd been following ever since upstate New York, didn't really have an opportunity to lean. This was the last time we saw him; apparently, people farther west don't use him as a lawn ornament.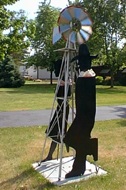 Not only is Illinois flat, but its also filled with corn; very tall corn. Will is over six feet tall, but he's dwarfed by the stalks. Shaine is also somewhere in this picture.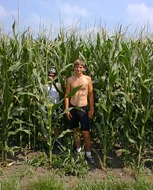 In Nauvoo, the Mormons and their Reorganized colleagues have restored many of the buildings from that ill-fated settlement, including Joseph Smith's homestead. They included all the details, down to his outhouse.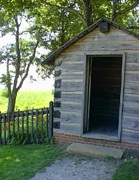 Look at a map; you'd never think it was the tropics. But along the Mississippi in July, even as far north as Iowa, it's like magnolia and Mint Julep time.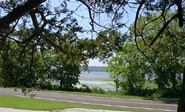 ---