---
TOUR ACROSS AMERICA
---
IOWA
Iowa was one of our favorite states. Friendly people, courteous drivers, refreshing weather, and a tail wind the whole way. We started on the Mississippi in tropical heat.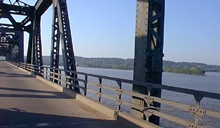 We followed state highway 2 thru the eastern half of the state. Mostly, we saw blue sky and corn.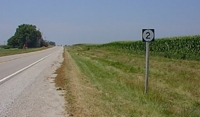 The land and farms were more spread out then east of the river. Less of man's mechanical works, and more of his agricultural wonders.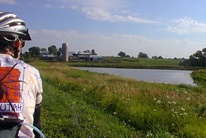 Somehow, we kept intersecting with the Mormon trail from 1847; some modern day pioneers traveled this route for the 150th anniversary in covered wagons. They got a head start on us, but we beat them to the West.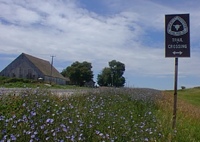 Will, our faithful sidekick, left us in Iowa. Here he is, riding off into the sunset.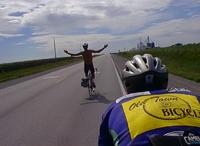 But wherever we went in Iowa, we found friendly people. Here's proof: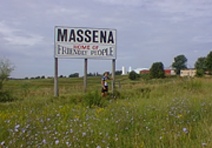 ---
(West Coming Soon)