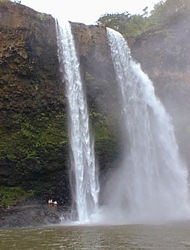 Day 4: East Side
Today started like all the others: one more continental breakfast. From there, we split up: Cheryl went one of the many local cemeteries. Since yesterday was Easter, the graves have ALL been decked out with local flowers full of vibrant reds and sun streaked yellows. She's still learning about the camera I bought her for Christmas. She's into filters and the various programmed presets for speed and aperture. I guess it makes as much sense to me as mountain biking arcana does to her.
While she was off shooting the graves, I put together my bicycle, which I'd lugged all the way from Gig Harbor in its airline approved case - it breaks down to fit a box the size of the wheels, and 10 inches thick. So far, it's gone two feet around our outside deck, where it remains locked up. I thought it would be cool to ride my bike around Kauai - after all, when else am I going to get to do that. But ditto for snorkeling, sightseeing, and beachcombing. I mean, this is a vacation, and road biking is more like a job to me.
Meanwhile, the kids slept in.
Bright and early, at noon, we headed off to Lydgate St Park, where the snorkeling was said to be "easy". Easy, because a jetty has been built into the bay, enclosing an area the size of a giant swimming pool, safe from waves and undertows. And filled with fish. So the kids finally got to see what the fuss is all about, without having to fight the ocean. Even Cody and Cheryl got into the water, masks and all. Ann met another third grader from Denver, Linzee. They talked for a minute, determined they were basically compatible (i.e., both in the same grade, were on vacation, spoke English, and wanted to see the fish), and went off together for 20 minutes of tortoise touching and rainbow fish chasing.
We all loved it there, expect that it was high noon, literally. At this latitude, at this time of year, the sun is almost directly overhead at noon. So, despite the 30 spf (waterproof, even), it was way easy to burn. Shaine was ordered into the shade at the first hint of pinks splotches on her freckled Irish skin. But Ann, whose been persistent in her application of sunscreen, got to shown off her TAN. By the time we were all snorkeled out, the tree we'd appropriated was filled with our towels and wet clothes; we looked like a peasant family out for a day's laundry.
After a couple hours there, we piled back in the bus (actually, our Olds Alero, chauferred by Cody) to tour the East Side of Kauai. [A brief observation on the Hawaiian alphabet/language: it seems to be mostly vowels, gutturals, and glottals, with an occasional consonant thrown to let you catch your breath now and then. I mean, most words seem to start with "k" or "h", followed by four or five vowels (e.g. heaiu or Kauai, etc.).] Our first stop was Mola'a bay (gee, two whole consonants in that one!)
Kauai is more square than circular, and its shoreline is divided into the four quadrants of the compass. We'd seen the west, were living in the south, and had toured the southeast. So today, we did the East Side. North from Wailua we drove thru Kapa'a and motored into an increasingly verdant, courrugated landscape. No need for irrigation and false landscaping here. Everything is green, with vines and ferns and cloudscapes everywhere. The ocean, pushed by the incessant trade winds, pounds the north and east shores much harder, and so has worn down the coastline to its cliffs. Beach walking is limited to little secluded bays at the mouths of rivers and streams.
Mola'a sits in one such semi-circle, looking back up to the hills. We headed over to the shade of some pine trees, where a rope had been hung for swinging. Ann tried hanging, Shaine jumped off, then Ann played Tarzan (no Jane for her!). Shaine found a coconut (not hard to do here, where they grow wild on the beach), and started to pound it open. Cody just took it all in.
Back on the road, we stopped just before the road curved north, to check out (oh no! not another one!) some waterfalls. We found out why they are everywhere - another five minute rain storm hit us while we explored the cascade. Banyan trees provided plenty of protection; Shaine discovered why palm trees don't work well as umbrellas.
Banana Joe's sells frosties, smoothies, fresh fruit (what is an apple banana, anyway?), fresh cut coconut drinks (we watched "Joe" chop one up for a pre-teen patron), banana bread, etc. We loaded up on the frosty drink, a concoction of fresh frozen fruit, whipped in a Champion blender, and ladled up like soft-serve ice cream. Papaya-pineapple can't be beat.
"One last stop" at Kilauea (OK, most words have TWO consonants), to see the lighthouse, continuously operating at this most northern point of the Islands since 1913. It sits on a point in the middle of a bird sanctuary. The white dots along the cliffside are all birds, waiting to hang glide off the cliff.
Back in Kapa'a, just before a refreshing (for the kids - 39 cent hamburger night) dinner at McDonald's, we pulled into "Two Frogs Hugging", a store with high class eclectic junk from all over the world strew thru it. Since the kids' Uncle Craig was christened "Frog" by one 18 month old who was still learning to pronounce properly, we've inundated him with frog paraphanalia. He's now as into frogs as I am into Buffalo.
Back to main page
next day