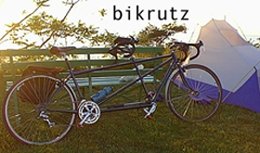 bikrutz: the trisection of family, cycling, and journeys
---
TRIBLOG: You never know where you are until you get there. I document the journey.

Below, you'll find other stories, pictures, & adventures.
BIKRUTZ: An American Family Seeks its Future by Bicycling Through its Past (Trip Summary, as published in Tandam and Family Cycling)
TRIATHLON DIARY: The eight year Quest for Kona; more fun than the saga of Seabiscuit!
VENICE STORIES: A fictional rendition of life in Venice, CA, in the seventies
SKI STORIES: How to make gravity work for you
CASCADE COULEE CYCLE TOUR: Because I always wanted to join the CCC
BANFF: In the Blue Canadian Rockiers, by the banks of Lake Louise
OLYMPIC ADVENTURES: Around our very own exotic peninsula
OREGON CASCADES: Rain, Volcanos, Raging Rivers, 30 Mile Downhills, Crater Lake ...
SOCAL SOCIAL BIKE TRIP: Half Moon Bay to Cardiff-by-the-Sea.
BIKES ACROSS THE BORDER: A 600 mile journey around the Northwest Waters.
KAUAI: We travel to this enchanted isle, for The Last Family Vacation
last update (Kona Journal, in Triathlon Diary) October 2006

send email comments to: al@bikrutz.org