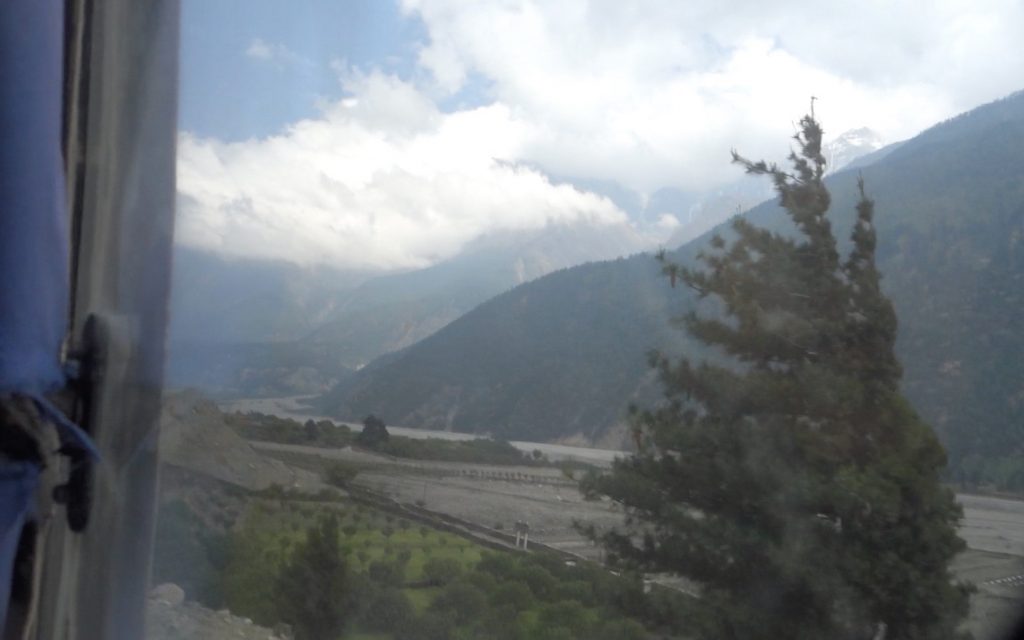 Chaim opened with his biggest smile. "I have the tickets for tomorrow. We go to airport [which is basically right next door to the German-themed teahouse/lodge where we're staying in Jomsom] tomorrow by 6:30. Plane might be there before 7."
"Are we going to be able to fly out?"  I asked. The winds ripping through the Jomsom gap in the Himalayas had prevented any incoming or outgoing flights that morning.
Chaim smiled more broadly, even sticking out his tongue. "We see, no?"
See we did. Three hours hanging in and around the airport until finally, no flights coming in, so none going out. Chaim told us, "I go get bus to Pokhara. You can wait here in tea shop, eat a little"
By noon, he had us on a rickety Nepalese bus, empty except for ourselves, a Dutch father and his son, and their guide. The porters had taken their own buses back the day before. Chaim, instead of putting us all on the regularly "scheduled" bus, was using the surplus funds from our all-inclusive fee, which he carried in an envelope in his jacket pocket, to garner a more exclusive ride for us. No crowded cabin, filled with mothers and goats, suitcases strapped high on the roof, for our party. Inside, little tassels hung from across the front window. A mattress lay across the cabin just aft of the driver; Chaim rested here, and chatted with the driver as we headed out.
The first few kilometers were pleasant enough, considering the bus had no suspension and the road was littered with goat head-sized rocks. Grinding along at maybe 10-15 mph, we slowly left the high desert wastelands, entering a steepening gorge lined with Asian evergreens. Down in the still wide Kali Gandaki river bed, the gravel flats had been converted to barley plots in a few places. Clouds built up around the 8000 meter peaks of Annapurna and Dauli Giri, over 5000 meters (16,500 feet) above us. This may be the deepest canyon/gorge on the planet, measuring from river bottom to mountain top.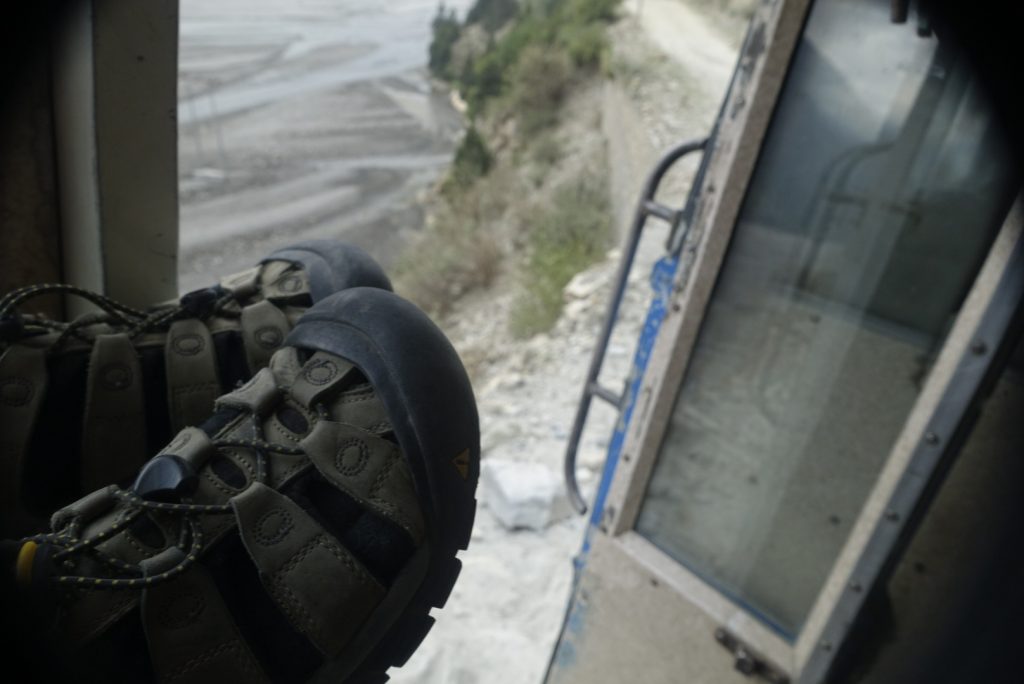 The gawking was short lived, though. As the slopes got steeper, the road grew ruttier. Maybe a fifteen foot wide track, bulldozed across the face of a 60 degree slope. Minimal road maintenance meant the damage from monsoon rains built up year after year, and the ruts grew. Every time another vehicle appeared, we had to find a wide spot to stop and let them go by. Sometimes, yaks were being herded up the hill; they got an even wider berth.
The road not only clung precariously to the hillside, it was also heading down towards the Ganges at a frightening angle. We needed to drop 6,000 feet in fifteen miles. On I-70 heading down from the Eisenhower tunnel into Idaho Springs, or Tahoe to Sacramento on I-80, this type of journey can be an easy freeway cruise. In Nepal, of course, it's an adventure ride, an epic tale for re-telling. The side door of the bus is left open, and a "door man" often stands there, to let the driver know how close the cliff edge might be. At times, we'd stop to pick up a passenger, as long as Chaim agreed (he was paying the bill, of course). The travelers would invariably earn their keep hanging there by the door.
After a couple of hours, we came to a "truck stop". It had all the trappings of an American road side oasis: A small diner (housed in a canvas and sheet metal tent), a parking area for the vehicles coming through, and a clutch of people, both Nepali and European, waiting for the next bus. This transfer zone was necessary due to the fractured bureaucracy. Most drivers and vehicles only had commercial permits to carry fares within designated districts. Arriving at the border between districts, and passengers had to disembark, and get on another bus. Hence the crowd, and the makeshift teahouse.
Apparently, Chaim had called ahead and reserved another bus and driver, who presently pulled up as we were finishing our dal bat. Several scraggly Euro-backpackers, eager to get out of the drizzly mist, began to negotiate with first the driver, and then Chaim to get on our ride. Trying logic on him, they pointed out how much cheaper it would be to pool our resources. Chaim countered (to us, not them) how much  less crowded it was without them. He was just following his Golden Rule: he who has the gold, rules.
They pleaded with the Dutch father, thinking he might be able to persuade his guide to relent. But, like us, he had learned early in their trek to trust his guide. If Chaim said we should go it alone, and leave the rabble behind, that's what we did. He'd made great, safe choices for us thus far, and I saw no reason to go against him on the last day out. Not only had we heard about bus accidents on the narrow roads caused by overloaded, unstable buses, Cheryl and I also know of two young women who have died, in South America and New Zealand, in similar circumstances. So our White Privilege was grounded not only in dollars, but also sense.
We did pick up another passenger a few miles down the road. Chaim told us, "This man, he can't hear, and he miss his bus. Next one not until tomorrow. So we take him where he goes, OK?" OK.
6 hours into the journey, the sky was darkening, and we arrived at the next frontier, in a bustling village, home to probably as many people as all of Mustang. Again, we dined on tea and cookies while Chaim rounded up the third leg of our trip. This would be in a taxi, one for us and another for the Dutch pair. Cars in Nepal are uniformly small and bouncy, but the drivers are expert. Probably a Darwinian thing; only the fit survive.
We arrived in Pokhara exhausted, but alive, crashing at the same small hotel across from the lake from which we'd left over two weeks earlier. Back then, we'd grumbled about the lack of electricity except between 7 and 10 PM. Now, we found it a luxury, We walked the honky tonk streets that night and the next morning, feeling a little hemmed in by the crowds. The air felt heavy and wet, no wind to pull away the perspiration. A constant hum of traffic and conversation carried through the windows, almost reassuring, but still a little foreign. Pokhara was noisy, crowded, oppressive, and a little threatening. Mustang had been quiet, isolated, windy, dry, high, and, most of all, friendly.