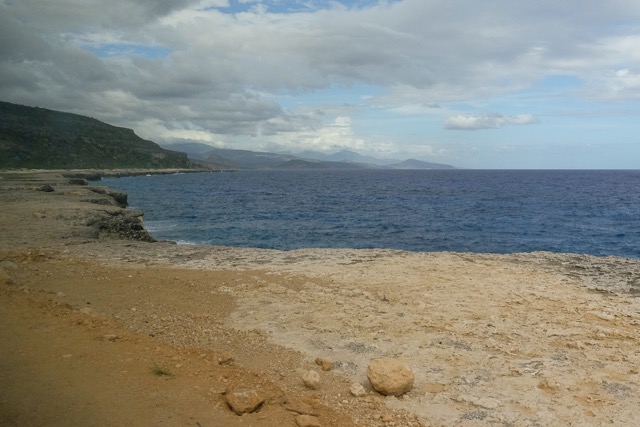 Cuba is a Caribbean island, sure, but on a much grander scale than, say Puerto Rico or Jamaica. It is, indeed, the greatest of the Antilles. To gain an idea of its breadth, were Cuba rotated clockwise a bit and moved a few hundred miles to the northwest, it would fit neatly, end-to-end, from New Orleans to Miami, right along the Gulf Coast. At its narrowest, it's about as wide as the Florida panhandle; the widest point from the Gulf to the Caribbean Sea is about the same as the width of Florida from Tampa to the Atlantic.
But unlike that section of the US, where nearly 30,000,000 people live (of whom over a million are Cuban themselves), only 11,000,000 occupy the island. Havana, of course, is the major city, with 2,000,000 in its environs. The second and third largest are Santiago de Cuba and Camaguey, with a half and quarter million respectively. Much of the nation is rural, engaged in raising crops and livestock: cassava, citrus fruits, other tropical fruits (mango, guava, pineapple), coffee, potatoes, rice, sugar (cane), goats, cows, chickens, pigs, horses, oxen. And, of course, tobacco. From the road side, farming appears much less mechanized than in the US. No mighty irrigation systems, no John Deere tractors – oxen pulling hand plows is a common sight – no heavy fertilizer usage, horse drawn wagons carrying produce to town.
Given the year-round growing season in the tropics, the narrow island and low terrain allowing windward storms to easily filter inland, generous amounts of flat land and only a moderate population, Cuba should be able to feed itself. But, according to a 2016 Reuters article, "The country spends more than $2 billion a year importing rice, meat, grains and other foods which analysts and local farmers say could be produced at home." That's probably a symptom of the socialist centrally controlled economy, which I'll explore more fully in another post.
While the rural poverty and crowding in the cities can be a bit hard to take for those of us from a much more favored nation, the weather and landscape were nearly ideal. Temperatures were rarely above 90 or below 72; skies were blue with puffy clouds everyday. And the rains which did come, on about 4/17 days, while heavy, were brief, not like the day-long affairs we'd left the Pacific Northwest to escape. It felt good knowing I could wake up every day, and be assured of wearing shorts, t shirt, and sandals, never feeling a nip nor oppressively sweltering.
Getting to the eastern tip of the island, where our biking would start, was a multi-day affair. First, wake up at 1:30 AM for our 5 AM PDT departure from Seattle. A through flight on Alaska Airlines (stopping for several hours in LAX) had us scheduled to land in Havana around 5 PM EDT. A balky warning light, which necessitated a turnaround on the Sea-Tac tarmac and an hour's delay, pushed that to nearly 6. Once on Cuban soil, we could see the terminal 200 meters away. But, we had to board a bus, then drive 3/4 of a mile, rather than take that short stroll. Once inside, a half hour wait each for luggage, customs check, and currency exchange (more on THAT in the economy post). Finally, Alejandro, our tour guide, found us outside the doors, and escorted us to a gleaming jumbo-sized Chinese-made Yutong tour bus with our driver, Juan, ready to roll. All three were part of the state monopoly on tourist services.
I'll return to Havana in a future post; the next 30 hours were spent getting to know the city and our riding partners at meals, on the bus, and generally walking around. Trying to establish a relaxing routine was out of the question. The first night, we didn't get to bed until after midnight, and the next, we had to wake up at 3 AM to get to the airport for our 6:10 AM flight to Holguin, which didn't actually depart until 7:30. Then, more than 8 hours of travel through the Cuban city of Guantanamo (north of the US naval base), along the southern coast, over the misty Paso de Cuba into the isolated Gulf village of Baracoa.
The later half of that trip covered in reverse our cycling route for the first two days. We were getting anxious to start riding, but first, a few challenges. While the trip was billed as a Trans-Cuba bike tour, we would not be riding every single kilometer. Rather than starting in Baracoa, which is about as far east as you can get on a decent-surfaced road, it would be wheels up in Cajobabo, 45 kilometers (28 miles) to the south. More significantly, the two are separated by the Nipe Sagua Baracoa Massif. Although the intervening Paso de Cuba is only 400 meters high, that's more than enough to capture the moisture in the trade winds and drip it perpetually onto the road as it twists and winds from the Gulf to the Sea. In places, the road was cantilevered out over the precipitous drop, a small barrier the only protection between us and a long way down. Meeting another vehicle here required a lot of tolerance and courtesy. "For our safety" we would not be riding this portion.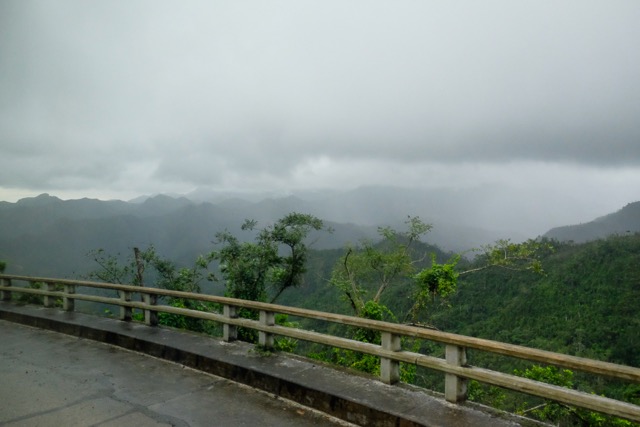 But the nearest tourist beds to Cajobabo are in Baracoa, so up we went as darkness fell, and back over we came the next morning. Each time, we passed a group of roadside entrepreneurs selling drinks and the local chocolate bars for which Baracoa is famous.
The other challenge: assembling our bikes. Cheryl and I had brought our own, S&S coupled 20-year old machines, fitted out to our size and taste, and weathered by 1,000s of miles crisscrossing the US and Puget Sound. Our casa host fancied himself a bike mechanic (as did half of the island's population), but once he saw the jigsaw puzzle awaiting us inside the airline standard size suitcases, he was content to kibitz and watch the tour's mechanic, Yoanis, show off his skills. He'd never seen coupled bikes before, but he immediately got the idea, and had the bikes in working order in under half an hour. Giving us plenty of time to wash for dinner and lay out our next days riding clothes, at last.
Sleep came easily after those exhausting three days of travel, but ended at 5 the next morning. Everyone in Baracoa, it seems, keeps chickens, for eggs and food, and all the roosters started demanding attention, most of them, it seemed, just beneath our second story balcony window. We didn't mind, though. We were in Cuba, for real, and about to ride from one end to the other, on what would become one of our life-defining adventures.