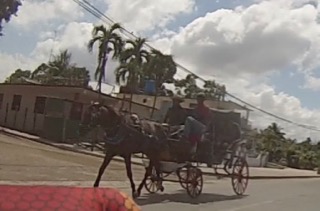 On June 16, 2017, the five-month old Republican administration announced a tightening of travel restrictions to Cuba. With the warming of US-Cuban relations in 2014 under President Obama, Americans found travel to the island a bit easier. Ever since the early 1960's, US citizens headed for Cuba have faced rigorous rules administered by the Treasury Department.  Travel was restricted to twelve categories, and required prior approval by the Office of Foreign Assets Control (OFAC). On Jan 16, 2015, that prior approval requirement was rescinded, but visitors still needed to document that they were going under one of the categories:
1. Family visits
2. Official business of the U.S. government, foreign governments, and certain intergovernmental organizations
3. Journalistic activity
4. Professional research and professional meetings
5. Educational activities
6. Religious activities
7. Public performances, clinics, workshops, athletic and other competitions, and exhibitions
8. Support for the Cuban people
9. Humanitarian projects
10. Activities of private foundations or research or educational institutes
11. Exportation, importation, or transmission of information or information materials
12. Certain export transactions that may be considered for authorization under existing regulations and guidelines.
During the 1990's, 100,000s of people went from the US to Cuba under this program. With the advent of a Republican administration, the OFAC became more rigorous, and travel slowed. Since Jan 2015, especially after direct air travel began in the fall of 2016, travel began increasing again, but still under the categories above. A visit to simply plop under a palapa on the beach sipping mojitos and Bucaneros remains proscribed.
(One ironic note: these restrictions based on an economic boycott are of course vigorously supported by those Cubans who fled to Florida in the 1960s. However, these same people – any Cuban citizens who arrived prior to 1970 – are exempt from the regulations, and may freely travel back and forth.)
Many people go under the cover of items 5 and 8: Educational activities, and support for the Cuban people. These are euphemistically known as "People-to-People", but that phrase appears nowhere in either State or Treasury Department documents. On the flight over, we had to fill out a form and check the proper box, and remain subject to potential audit by Treasury to prove the purpose of our visit. The recent changes are more cosmetic than restrictive. Direct air service remains intact. Travel by individuals is still possible under those twelve categories. The primary new restriction is: no use of facilities owned or managed by the Cuban military, which controls a large proportion of the tourist service base, such as the 5 star hotels in major cities.
Our Canadian bike tour company, which has operated there for over a decade and surreptitiously served Americans, last year began to organize a tour which could operate out in the open. Exclusively for US cyclists, Canbicuba worked with both the Cuban bureaucracy and the fledgling US embassy presence in Havana to design a program which allowed us to honestly check those boxes. Thus, we found ourselves almost daily on one tour or another, visiting the standard tourist stops along our route.
In Bayamo, the capital city of Granma province, we toured the horse carriage factory. Bayamo is known as the city of horse carriages. Non-motorized travel on the roads is quite common. Cuba has no oil of its own. Up until the early 1990s, subsidized Soviet oil kept things moving. Following that, Venezuela under Chavez filled some of the gap. But it has always been tenuous at best. And with imports of vehicles strictly controlled by the government, most travel for the bulk of the population is by foot, bicycle, horse, or public transportation. (In Guantanamo, for instance, I had noticed the early morning commute was about 90% via horse-taxi.)
Alejandro rhapsodized about the romantic town of Bayamo, "the city of horse carriages".
"We visit the factory where they, um, make the carriages. Bayamo is very proud of its heritage," he announced as we gathered for the evening's briefing prior to the next day's ride. "Maybe you take a tour of the town, see everyone riding in the carriages."
Cheryl and I stepped outside after dinner, around 8:30 PM. The Soviet era concrete block hotel was singularly uninviting, and the air so balmy. As we ambled down the palm-lined, crumbling entryway, a line of horse taxis waited for the tourists to appear.
"Let's walk around a bit, I've been sitting too long," I countered when Cheryl suggested we could hop on one and tour the town. The sun had just set, but I felt no breeze yet. My shorts and T shirt were all I needed. With Maps.Me guiding, we wandered west through uncrowded residential streets just on the edge of a slumbering downtown. Outside the Plaza de Revolucion (each town has one), young Cubans sat huddled on a street corner, alone or in pairs, hunched over glowing phone screens. Further on, a building announced "PCC".  It seemed well-kept, like a community center. A few cars grumbled by, exhaust belching black beneath the weak sodium vapor lamps.
Returning the the hotel entrance, we hailed a taxi. The horse clopped up a few steps, and we negotiated in Spanish + English. It was after 9 PM. We had another day of riding, to Las Tunas with the junior cycling team, staring at us for tomorrow
"We want to go only  30 minutes – how much?"
"10 CUCs for an hours."
"We give you ten CUCs, we just want to go 30 minutes … see a little of Bayamo."
Once we were settled, and the horse pulled away, Cheryl asked, " Is this your horse?"
Our driver explained he only took fares at night, "Not so warm, better for the horse." He kept the horse behind his home, and hoped to afford another, franchising out the carriage to someone else during the day,
He pointed out the city landmarks. Around the Plaza, he noted "Wi-Fi. Only spot in town. That lady" — he pointed at a sharp dressed black haired woman of indeterminate age, with a line of teenagers snaking past her along the sidewalk — "she selling wi-fi cards. Three Pesos, one hour." The only way to get on the internet in this country.
As we passed the PCC building, I asked him what the letters stood for. "Partido Comunista Cubano." Communist Party headquarters.
Crossing over the main street running through the center of town, we entered a jumbled section, narrow alleys jutting off in all directions. The buildings were stucco, not the uniform cinder blocks in the newer part of town. Through the maze, past a few more historic sites, we opened up into a cobbled plaza. There, the driver hailed a gaunt man in a jaunty derby hat, who smiled and waved back. "My friend. He wants a ride to his house."
Turns out the man was quite comfortable with English, having spent a bit of time in the states. He kept up an amateur tour guide's patter for the final half hour of our trip. We ended up back at the hotel exactly one hour later.
"So much for only going 30 minutes," I mumbled to Cheryl. But the evening had been worth it, a much slower pace than trying to see the town in a large tour bus. We gave a 5 CUC tip each to the driver and his "friend".
At breakfast, our group of rabid cyclists grumbled a bit about touring the factory and thus getting a late start on our real activity – cycling. But we dutifully entered the bus, waited while Alejandro negotiated with he factory manager to allow us entry, and trooped in en masse to the one story shaded work house.
"We will no see them make the carriages today. Not enough orders, " he explained. As we shuffled past the carcasses of disheveled carriages, I was reminded of our country, in the 1890s, when internal combustion engines were just being placed into horse carriages, and the whole auto industry was run by back yard tinkerers.
The grounds were filled with workers. Some sorted through palm fronds, others whittled at the friends. "They are making brooms." A bunch of fronds were tied together. The branches were whittled smooth, and the feathery ends cleaned and separated. Finally, they were chopped to a uniform length, and stacked against a wall, right next to the scale models of carriages, which apparently were the primary source of income for this shop, being sold to tourists. A bit mystified by the "City of Horse Carriages", we hopped back on the bus, to be driven to the outskirts of town, where we unloaded bikes and did what we came to do – bike through Cuba.