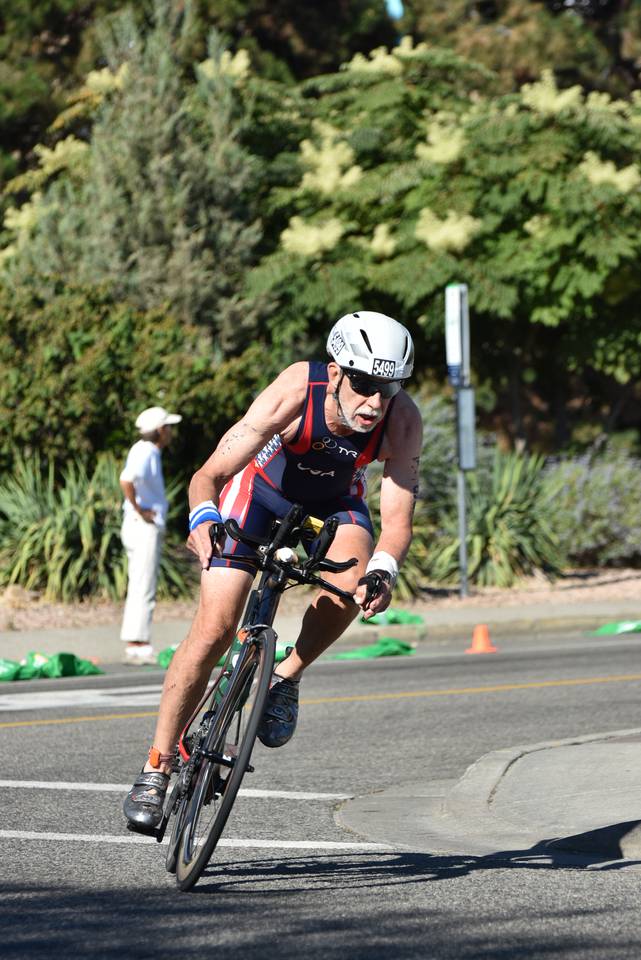 I've been eager to do this race since it was first announced over two years ago. And the distance itself has always interested me: 3K swim (variable, might be as long as 4.5K in some events), 120 km bike, 30 km run. It's what the International Triathlon Union (the Olympic body for our sport, of which USATriathlon is the national federation) calls "Long Distance", designed as three times the "Standard" or Olympic distance event. Having done 30 Ironman races, I know that once I get past those 3k/120k/30k marks, I start to wish I were done with that leg. Going into this race, I felt I could give a good solid long distance performance, without the usual agony and self doubts which inevitably crop up over a 12 hour day of "racing".
My training leading into this race was solid, and I felt very confident. Further details and my race plan can be found here and here.
One of the attractions of this race, I could drive to it. We headed up on Wednesday, staying in a superb B&B less than a mile from the start, right on the lake, and right on both the bike and run courses. Good locale for being out of the hype, but close for spectating. I rode most of the bike course on Thursday and Friday. The bike starts with a 15 mile out 'n back, which I covered Friday, and then a 29 mile loop done twice, which contains the four hills (two each loop) we'd encounter. I went 18 miles to sample that on Thursday.
The weather Thursday and Friday was moderate (70s) and partly cloudy, but for ten days, all weather sites had been promising a clear day and temps into the 90's (31-33 C) on Sunday. The good news – minimal winds, from the north, until about noon, then picking up to 8-10 mph after that. So: a small tail wind on the return trip of the one-loop swim, no wind to fight as the temperature rose during the bike, and then a good breeze off the lake for the run (more on the run course below)
ITU has gone to a Multi-Sport ten day Festival for their season ending races, incorporating everything except the Standard distance, and the long course duathlon. So, thousands of triathletes and their friends and families were there for: Duathlon (Sprint, Relay, Standard), Cross (MTB, adults and juniors), Aquathlon, Aquabike, and the Long Distance Race. In addition there were para (physically challenged) divisions for many of the races, and Pros (including Andy Potts, Lionel Sanders, Ben Collins, Leanda Cave, Heather Wurtele). On top of all that, anyone who had NOT qualified for the World Championships (for that's what al these events were, ITU WC's) could enter as an "open" competitor.
On our race day, the pros would start first, followed by the LD WC for age groupers, then the Aquabike (same swim and bike), and finally the open long distance race. It made for well over a thousand bikes in transition. Despite the numbers, there were only about 60-80 competitors in each age group, both men and women, for the WC,  at least through 55-59. For my 65-69 group, we had 30 starters.
I was in a good mood all week, and well hydrated during the days before. I moved smoothly through the morning chaos, spending maybe ten seconds in the waiting corral with my wave, until we got out on the beach. I stayed at the edge of the group, scanning for my wife Cheryl in the crowd lining the fence above us. Found her, ran over for a kiss, and went to line up to the far right, the buoy line, second or third row back. This race, we could swim on either side of the buoys, so I saw no reason to avoid that edge. Again, minimal wait there until we started the long run and dolphin plunge into the water. 1100 meters almost due north, then a very gradual series of 6 turn buoys spaced 150 meters apart to make the turn to a straight shot 1100 meters ionto shore. So, there was really no scrum at the turn buoys as the angles were so shallow. While I couldn't find much in the way of feet to follow, I did have someone on my toes for more than half the race. Which was re-assuring, meaning I must have been swimming steady and in a straight line. I'd done nine 3000 meter open water swims this summer, all at the same speed, so I was anticipating a 61 minute swim, exactly what I produced on race day. I do not start my watch on the swim, and they had no clock at the exit, so I had no idea of my time.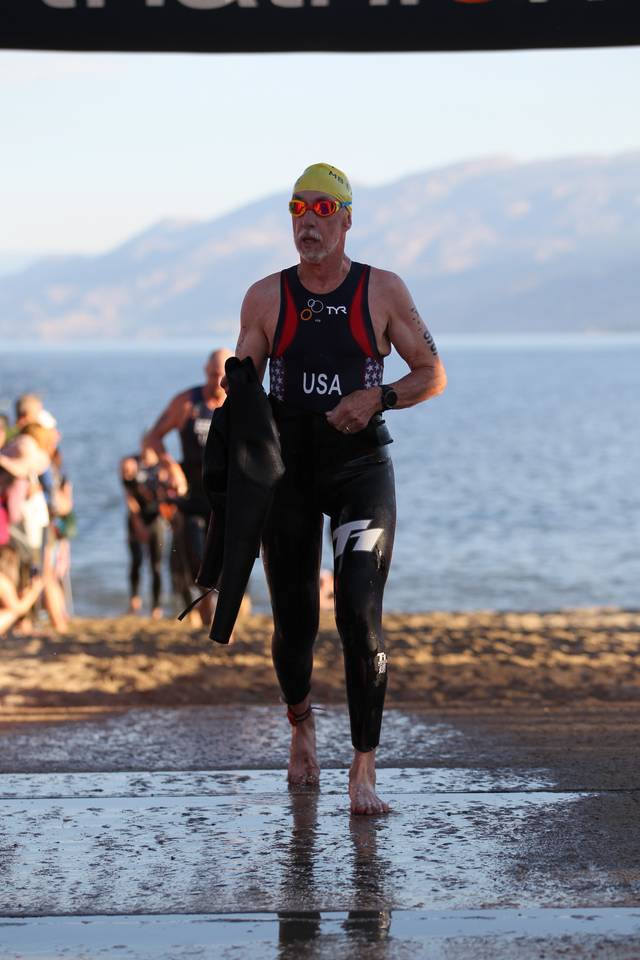 T1 was a long run around the whole bike corral, then a run back through it. I carried my shoes the whole way, hopped on at the mount line, and sailed off along the lake's edge. I spent the first five minutes or so fiddling with my head unit to get watt readings, which helped me keep my power and heart rate in check. The first 15 miles, totally flat along the lake, went by in 26:15 (21.3 mph). The impressive thing to me was how I performed on my new bike, a Quintana Roo PR6. The previous fall, in the qualifying race (MiamiMan half iron), also totally flat, my NP was 152 watts, at an HR of 128. On this flat portion, my HR was 110, with an NP of 154. I just can't get over how much easier it is to hold speed with my new "super-bike". I also went about 0.5 mph faster at about the same power. Why did I wait so long to spend ten grand for this?
Preparing for the race, Coach P told me several things which helped on race day. First, he noted that all the biking I've been doing this year, especially the loooong climbs in the mountains, provided me with something like a nuclear weapon – overwhelming power which was nice to have, but may not really need to be used. And, if I was feeling good on the second loop, I might consider seeing just how much I had in my legs for the final climbs.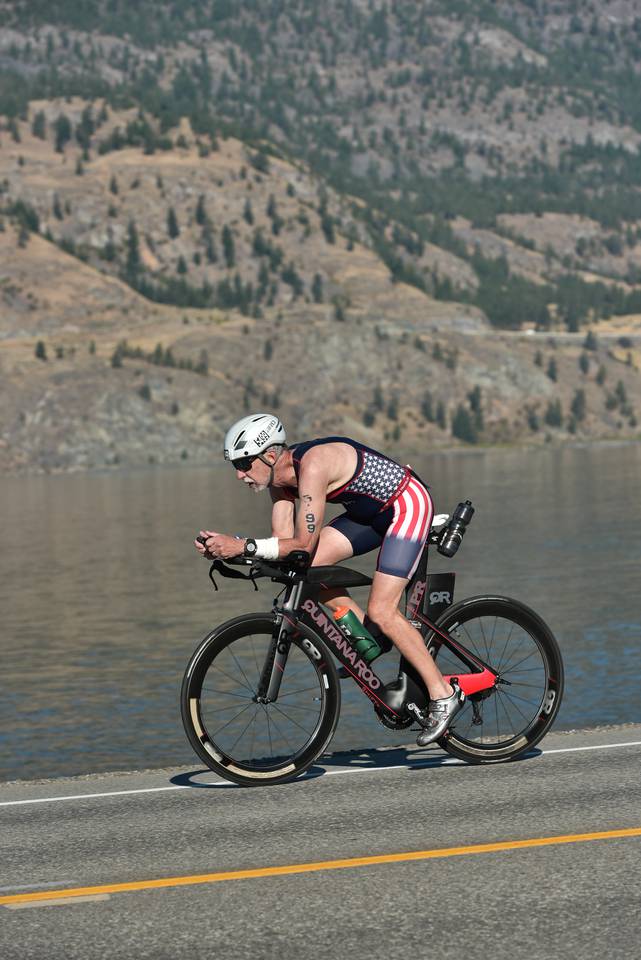 As I started out on the second loop, I came up on one of my AG competitors, whom I'd met several times before at USAT and ITU races. I knew he was a slightly faster swimmer, and I was a probably a bit quicker on the bike and the run. I also knew he had the common tendency to work hard up hills, and less so down. I acknowledged him as I went by, and we traded places over the next 20 miles or so. Up the final climb, I saw him taking off, and decided, now was the time to see if I could find that extra gear. I was not trying to catch him, just limit the loss. But it helped me produce basically an even split for the two loops. EG: Speed/NP/HR, Loop One –  18.11/163/112, Loop Two –  18.14/163/119. And on just that last climb: #1 11.27/179/118; #2 12.11/184/128.
I usually spend a lot of time looking into the nooks and crannies of my ride data, looking for mistakes I made, possible improvements, deviations from plan. I cannot find anything in there that disappoints me. No times when I wimped out and didn't work hard enough, no times when I got crazy and went over the effort line for any portion of the race. Even my nutrition was right on target. I ate everything I planned, drank it all on schedule. It's quite simply the most satisfying ride in a long distance triathlon I've ever had.
T2 took a minute longer, as I stopped at the can to pee – I hadn't since the swim warm-up. I was quite full, even though I hadn't noticed during the 3:53 ride. I made up for it by simply grabbing my Go Bag and putting on socks and shoes, then out the chute. Immediately, I started to gather sweat on my body, everywhere. I had the Mile 18 Ice Bag with me, and first aid station, I loaded up. ITU says we have to race in our country's approved uniform. Which in our case means a back zip, sleeveless suit. Where to put the ice? My plan, after watching many on the distaff side use the advantage of their décolletage as a place to store ice while racing, was to fill the bag, pull it shut, and drop into into my front, right over my heart. The idea being, each beat would cool the blood, for my own internal air conditioner. None of this cooling the femoral artery/vein, or the neck vessels. Why not go for the whole ball of wax? It worked great. I can't say I felt cool, but I sure didn't feel like I was dying.
Which is what I usually feel in hot races. I do NOT enjoy running for hours when the temp is over 29C. Trying to race is trumped by simply working to survive. Drink three cups every aid station. Keep the cadence up between them. Look forward to the breeze near the lake. Fill up with ice every 5-6 miles, rinse, repeat. The run course was three 10K "loops", which were really three connected out 'n backs. The first one turned around at Dairy Queen, and I was so tempted to just run in, say, "I'm in the race. I don't have any money, but can you PLEEEZE give me a Blizzard?". Unfortunately, the out n' back nature of the course meant a lot of opportunities to see who was ahead and who was behind. But the 3 loops made that a bit problematic, as who was with me, ahead of me or behind me?
As the temps progressed from 85 >> 90 F during the day – we ran basically at high noon, 11:45-3 PM – i found myself slowing down. In the heat, I have no mental space to up the ante by working harder as the race goes on. I can deal with cold, wind, hills, and other environmental challenges. But I am afraid of heat. More often than not, I have blown up and ended walking on such days. So I thought of the three or four successful hot races I've had, and how they were successful because I did NOT think of myself as racing, but as finding a way to simply keep running.
The loopy aspect of the run allowed me to see Cheryl 10 times in all. At almost every encounter, I stopped, gave her a hug, and got encouragement from her. I could not have kept going without that. Afterwards, she told me she wished she had brought a towel with her.
"Why?"
"Well, you were very wet."
"Oh, I didn't notice."
It was almost blast furnace hot, but it was a dry heat. Still, I was sweating out everything I could put in, along with all the water dumps on my head at every aid station.
I did manage to pass the guy I'd been trading places with on the bike, and kept him behind me the rest of the way. And I did manage to keep a couple of faster runners from catching. I finished 7th in my AG, which was my secret expectation, although I acknowledged to Cheryl I wanted to be the top 1/3rd. Looking at those ahead of me, I discovered: they were all born in 1952 (I was born in 1949). Two were Americans (I wanted to be in the top 3); one each from Australia, New Zealand, Canada, Japan. And no one older than me beat me. I was at the head of a pack of five which finished in 8:23 to 8:28; 6th and 5th places were over 16 minutes ahead of me. I don't think I could have gone the 1 minute per mile faster on the run I would have needed to compete with them. Nor could I have swum any faster or biked any harder, and still been able to survive the run. I am satisfied with how I did, and don't really see opportunities for "improvement", just a recognition of how much work it takes to be ready for a successful race.