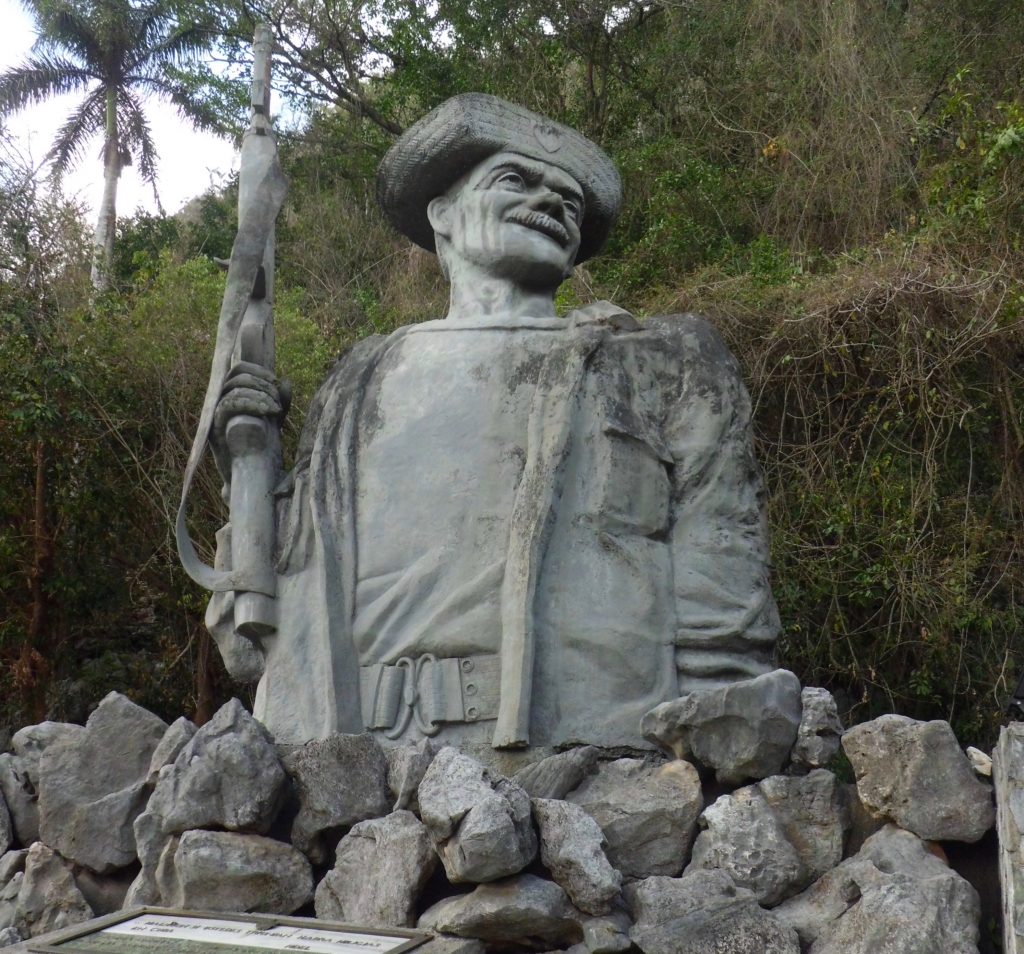 Leandro Malagon, or at least the top half of him, rose monumentally above the deserted plaza. A stray hound emerged from the base, and I squatted to get the correct perspective on the heroic statue which jutted incongruously from the dense forest of Parque Nacional Vinales.
Joany and I had been biking 45 minutes west from Viñales when this memorial erupted near the entrance to Caverna de SantoTomas – supposedly the second largest cave complex in the Western Hemisphere. But we had no time for spelunking. Alejandro had fully occupied our morning with a visit to a tobacco farm.
"Today, we rest. First we go to the tobacco. Viñales is where the greatest cigars in Cuba are made." Not grown; made. Apparently, growing tobacco is the easy part; making the cigars, of the correct shape, width, length, and taste, is the real art. It was from here that both Winston Churchill and Fidel Castro were said to get their favorite stogies.
Juan angled the bus through another impossibly narrow slot, and parked adjacent to a drying hut. The lecture on growing, cutting, and drying was mercifully short. The main attraction was a demonstration of cigar rolling and smoking. First, the cigar master cut, rolled, and wrapped a perfect cylinder. Then, he sought volunteers to check the quality of his product. Cheryl, of course, volunteered her lungs. I bought a box of ten for US$10.
Viñales is certainly the most scenic spot we toured in Cuba, snuggled in a protected valley abutting the eponymous national park. Large humps of rock rise 1000 feet or more from the valley floor. These "mogotes" bring to mind the sharply etched hills of classic Chinese paintings, covered with lush trees and vines. The valley floor is home to a multitude of tobacco farms, and small houses to service the crops. The town itself is not large, but has recently realized its tourist potential; scores of casa particulares have sprouted throughout the narrow residential streets. Seemingly every other family is now in business for themselves, so we had our pick of lodgings. With 15 in our group, we occupied three domiciles on the outskirts of town.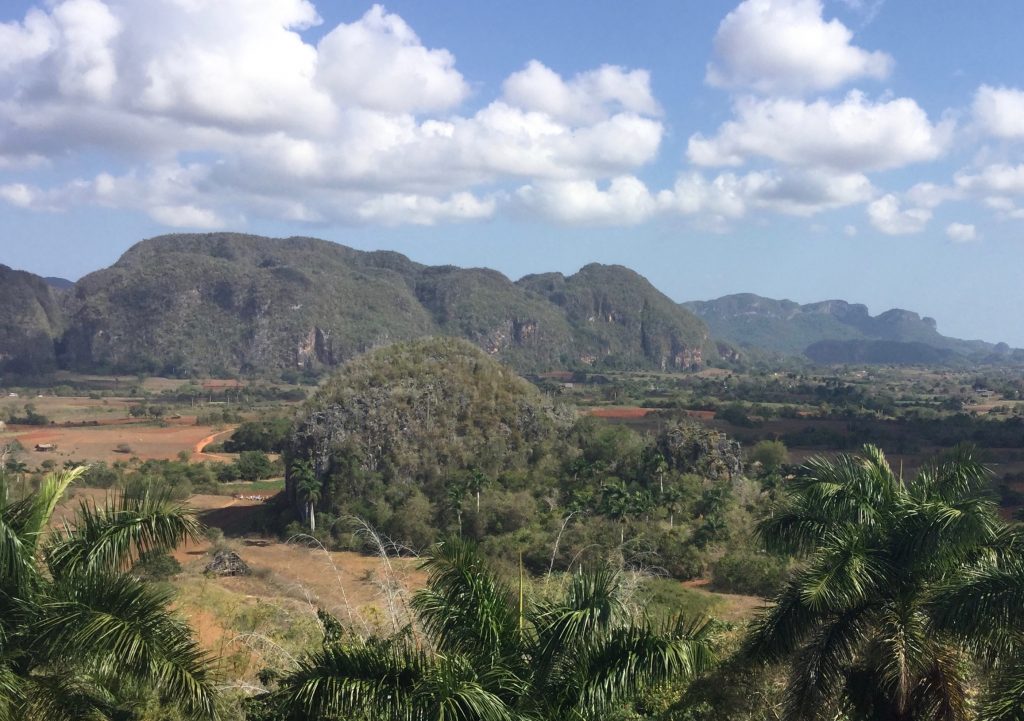 We would stay here two nights. "Today, you no ride, you need a rest. Tomorrow is a big day," Alejandro asserted. Of course, being new to bike touring, his idea of a big day, and ours might be at some variance. A few of us took his offer to go on an afternoon explore; the tandem went East, Joany and I headed West. I hoped to make it as far as the St Tomas cave.
But I got sidetracked by the Malagones. The parking lot was empty, and I struggled to let Joany know I wanted to get through the chain blocking entrance. He rousted a middle aged woman out of a small guard booth; she appeared glad for some business, and finally let me know it would cost about US 25¢ for me to enter. The whole time I wandered the site, taking a few photos and video, she kept a very close eye on me, almost as if she suspected me of intending damage.
With my rudimentary Spanish skills, supplemented by 3 years of Latin in high school, I pieced together the basic story. There were twelve local farmers who fought a great battle near here. All but two were buried in tombs on-site, none of them dying in the battle itself. They seemed to serve as a great role model for patriotic Cuban behavior. Pretty mysterious, until I returned home to easy internet access, and learned the full story.
In August,1959, Fidel and his commanders, in power for only 6 months, visited the Caverna de Santo Tomas, and met with some local peasant leaders. The Revolution was still young, and pockets of resistance ("counter-revolutionaries") remained, mostly hiding is isolated locales such as this. One such group was marauding amongst the nearby villages, and the local peasants, led by Leandro Rodrigues Malagon, asked for help. Fidel, whether on the spur of the moment or with great foresight, anointed Malagon as the head of the first cadre of the Revolutionary National Militia. Castro saw that sustaining his revolution required deep and full commitment by the masses of the people. They were already predisposed towards that, after the perditions of the Batista regime. But if their lives weren't safe, if they could not farm without fear of losing their crops or even their life, they would not see Castro's rule as any better.
So he asked Malagon to pick 12 men to become the local militia. He gave them 90 days to find and deal with the "fugitive from revolutionary justice", "Corporal" Lara. He sent them to Managua for training. Once equipped and ready, they returned to their home hills. Using easily available local intelligence, they surrounded Lara's hideout, and commenced a shoot-out, which seemed destined to end in a stalemate. Until Malagon, at the front of the house, shouted to his crew blocking the rear entrance, OK, now we bring out the Thompson [presumably referencing a machine gun, which they did not actually have]. This frightened the Lara group, who surrendered immediately.
The Malgones become Heroes of the Revolution, and were paraded around the country, serving as an example of how others could help defend and expand the revolution. They all lived to ripe old ages, and as they began to die off, Fidel's brother Raul decided a memorial to them in the home valley, where Fidel had the idea for the National Militias, would be fitting. Now, 10 are entombed amidst fountains (which have a curiously similar sound to machine gun fire) and cobbled walkways. Two are still alive, their resting sites still waiting.