[copy of a post to EN Forum today]
The intent of this thread is to encourage folks to review their past year in training and racing, and report goals for the coming year. Not intended as simply a summary of race performances, but rather analyses of what worked, what didn't, what might be changed, and what might be committed to for 2017. I guess I'll have to go first?
2016 season – roughly defined as Dec '15 >> Nov '16 – cleanly splits in half for me. Recovery from surgery (hernia), skiing, dealing with the implications of a broken big toe in February, and gone for 3+ weeks trekking in Nepal in April all put a pretty big hole in opportunities for improvement via consistent training. Comparing the first six months to the last via one metric, distance covered, I biked 1150/3700 miles, swam 70/152 km, and ran 175/632 miles. Looking back, I can see that "break" allowed my overworked triathlon head space and broken-down body a chance to do some healing. Having done about 30 IMs 2000-2015, I committed going forward to doing at most one per year (with the possible exception of aging up @ 70). I felt my increasingly narrowed athletic focus (I called it being on the Kona Merry-go-Round) was becoming unhealthy, and I wanted to create opportunities to strike out and do a few different things.
I wasn't going to suddenly become a power lifter or soccer player; having fun with my fitness would likely remain in the areas I'd already carved out: skiing, hiking, swimming, cycling, running, and triathlon. I'm happy with how that turned out this year: skiing more days than I have since 1980, going for a two week trek half-way around the world, sharing my home in Colorado with a dozen EN tri freaks, and competing at the national level in shorter USAT races. The only thing I didn't check off was getting back to mountain biking.
I was quite satisfied with how I performed in all my races: they were all fun, I achieved the time goals I set for myself, and I didn't slow down at the end of any. But either from the more rapid fall off in speed that comes after age 60-65, or from the decreased emphasis on year-round training, I only won a couple of local tris, even coming in second in my local HM.
Since we're primarily a triathlon team, which has a strong data-geek leaning, I'll present a couple of charts, both covering my second season, 5/8 >> 11/13. First is my Performance Management Chart, PMC. It shows a steep rise in Acute Training Load starting with the EN Tour of California, and my Aspen training camp, a dip in early August for the USAT NC, then a plateau to a Chronic Training Load of 134 for several weeks in mid-Sept, in the ramp up to IM Maryland. The last six weeks reflect a drop to half iron training loads for the USAT LC (1/2 Iron) NC. IO placed 4th in both those races. Respectable, but not spectacular.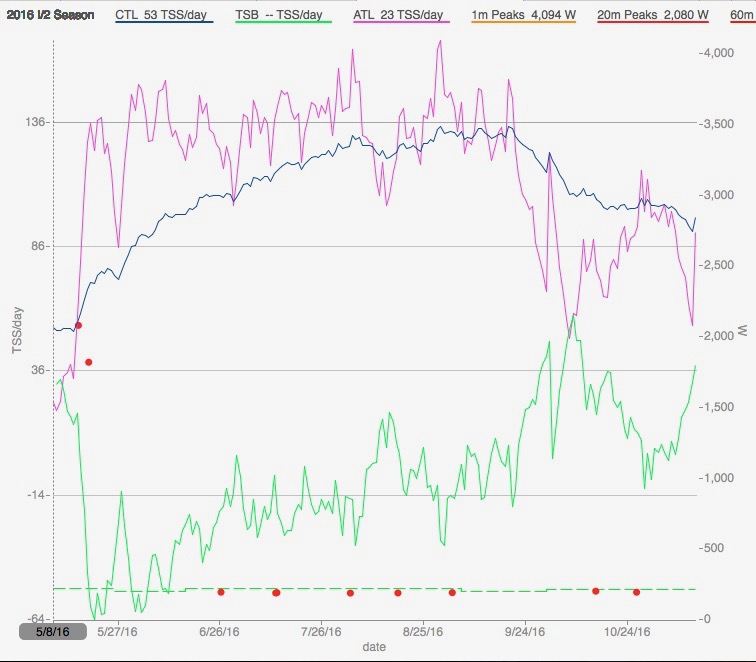 Next, my weekly totals, first in graphic form, then a more detailed chart:
So, what about goals for the coming season. I like the direction this one took, so I'll try a reprise. Dec-Jan, emphasis on skiing, but also work the OS in, taking 20 weeks to do what most of you get done in 14. Then, a few weeks of bike focus, getting ready for a Big Event, a trans-island bike tour of Cuba with my wife Cheryl. 17 days (11 biking), maybe 5-600 miles, with a Canadian guy who's been doing these tours for 15+ years. We'll have a cultural guide, mechanic, SAG driver, and two bike leaders. I think it will be both as ambitious and as rewarding as our trip to Nepal this year.
Then, the EN Blue Ridge Camp end of April. I head to Colorado May 15-June 22 or so, featuring a reprise of the "Al T 'Tude" camp I hosted this year, June 4-11. Coeur d'Alene 70.3 June 26. Play Super Sherpa for an EN crew @ IM Lake Place in July. August features my A race for the year, the ITU Long Course (4k swim, 120k bike, 30k run) World Championships in Penticton, BC. September will feature a Fall Al T 'Tude camp (watch for announcement early next year), and I'll close the season with a Fall IM, still TBD among Louisville, Los Cabos, or Cozumel. I won't sign up until next Spring, as I'm done playing WTC's sign up a year in advance game.
My biggest goal for the year is a negative one: Don't Get Injured. I've been doing too much of that the past decade, and Having Fun With Your Fitness requires being fit to begin with. Being injured puts a big crimp in that. Next, process goals of not getting slower or weaker in S/B/R, in order to (outcome goals): win CDA 70.3, and finish top 5 in Penticton.