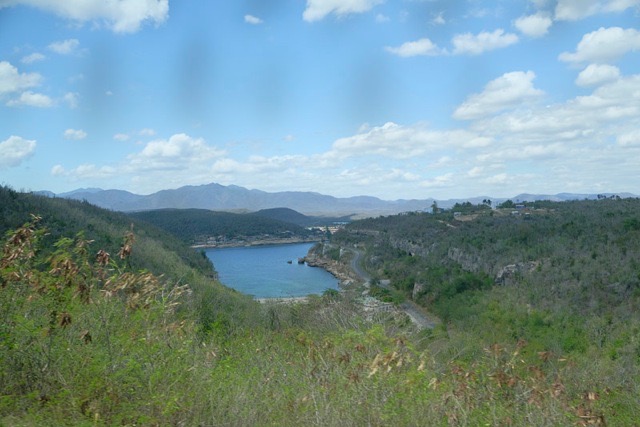 Santiago de Cuba is the country's second city. Founded five hundred years ago at the upper reaches of the Bahia (Bay) de Santiago de Cuba, it has long been a linch pin to control of the island nation. Plundered repeatedly by French and British in the 16th and 17th centuries, swelled by white escapees from the Haitian slave revolt in 1791, site of the Spanish defeat at San Juan hill in 1898, it was fitting that Fidel Castro proclaimed victory over the Batista and his "imperialist backers" (the US) from the balcony of Santiago's city hall on January 1, 1959, a week before his rebel army triumphantly entered Havana.
Our next two days of riding were sandwiched around a visit to this city, strikingly placed at the northern end of the luscious bay, surrounded by tan and green hills on three sides. The first day's plan was lunch at Morro Castle, centerpiece of the three hundred yer old fortifications the Spanish build at the narrow mouth of the bay, which finally put an end to raids by those pesky English sailors, and their tacit allies, Caribbean pirates.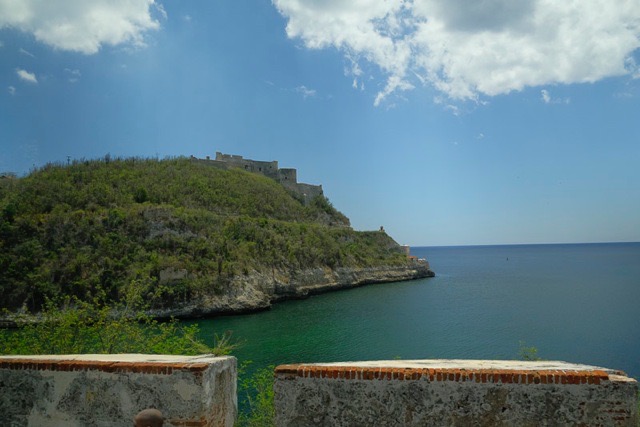 I had gotten used to horse carriages on the roads, but looking out my third story hotel window at 7 AM down to Guantanamo's main street, I saw a fleet of horse taxis, clop-clop-clopping on the rutted asphalt roadway. Everyone going to work, it seemed, hitched a ride on these archaic buggies. I felt transported back to the quieter era just before Benz and Chevrolet and Olds and Ford and all those other men married the internal combustion engine to a horse carriage, and set us down what seems now like a highway to our doom.
Each horse had a little canvas bag stretched out below his tail, to catch any stray droppings. Cubans are nothing if not neat. Women sweep out store fronts at the start of every day; most road sides are free of plastic bags, exploded tires, and other litter.
Today's ride would be short, under 40 kilometers. Our bus took us 58 km to Alto Songo; Alejandro insisted we could not ride on the A1, what served as the major East/West highway in Cuba's Oriente (east). The road seemed safe enough to me, but after the first day's metric century, a quick jaunt down to the sea would probably be very relaxing.
I did not count on the risks of trying to stay with the Viejo Gringo racers, and our pilot fish, Yoany. He kept promising "a hill", but all I saw after the first 6 miles of rollers was an endless downhill dropping 200 meters to the sea. No traffic, a determined set of riders, and that ever-present tailwind contributed to an average speed of 29 mph for that segment, without even working too hard.
We finished with an uphill climb to the "castle". But once we learned it cost $10 to sightsee in there, we opted to just hang out in the shade, waiting for the bus and our bayside tour.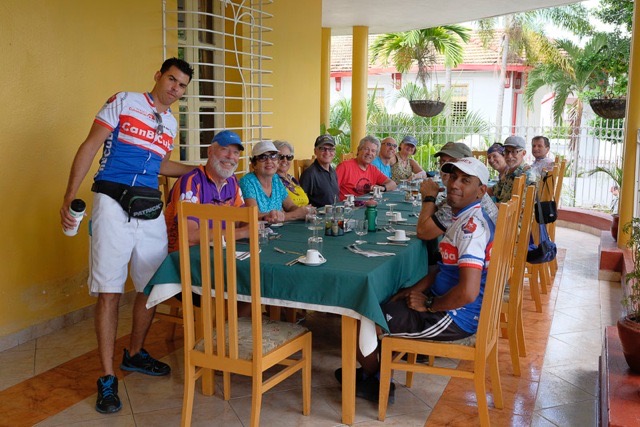 Alejandro pulled another of his surprises. Originally promising us a snack lunch at at the Morro Castle park, instead he and Juan remembered they had government vouchers for a meal at the Zunzun restaurant in the restored Vista Alegre section of Santiago. This small area houses consul buildings, local government offices, and residences for the few people who had actually accumulated enough money to buy a home. The tourist-friendly eatery fills an elegant old colonial building with 9 foot ceilings and thick adobe walls. A small Cuban guitar band strolls among the tables. Since we arrived at 3 PM, we had the place – and the staff – to ourselves. We enjoyed the outing, but probably because we had not yet realised the dreary sameness of Cuban food. We still thought rice with black beans, potato, beets, guava, pineapple, and a choice among pork, fish, chicken and ropa vieja (stringy old beef, I think is the translation) was exotic. Still, superior to what we would find that night in the hotel.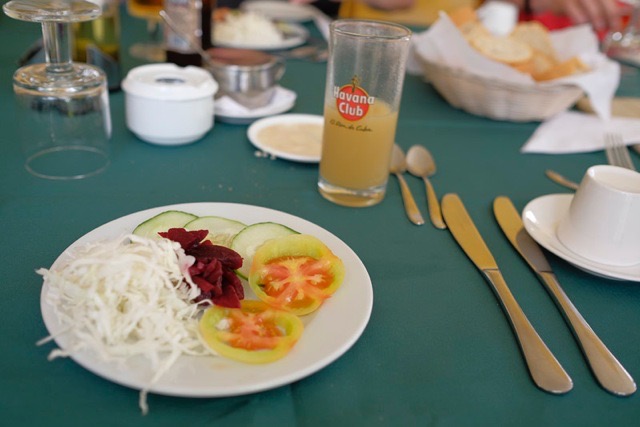 The "3-star" hotels we usually stayed in all had the same stolid, crumbling  mid-century Soviet style. We quickly learned a few things about the layout of these places, built for USSR apparatchiks to escape the brutal Russian winters. Cafeteria restaurants are always on the second floor. Several bars surround the reception desk, and were always ready with our free "welcome cocktail", a Cuba Libre (rum & coke) designed to only make one want a real drink. Elevators were often out of service, or if operating, a risky venture. The buildings seemed to have settled over the years; bathroom doors never seemed to line up properly with their frames. Blankets were provided, but always hidden in a closet or drawer. The air conditioner and TV seemed to have identical remote controls. It was always a long walk – from one end to the other, to get to the Piscina (swimming pool), which, more often than not, was empty, or draining, or otherwise not available.
And the internet. Oh, the internet, in Cuba. Rumor has it the only country less well connected to the web is North Korea. There are government run hot spots in city squares, and each hotel usually has a functioning router. But speeds made me long for the brisk days of dial-up – when they worked at all. To get "online", one buys a card with two 20 character sets to be typed in as name and password. For $3, you get an hour. The hour may actually allow some email to be downloaded, and maybe even sent. But, on the other hand, precious minutes are used up with what might well be a human government censor contemplating the URL you've typed in, deciding whether to allow it or not. So Cheryl and I didn't even try for the first two weeks we were there. I don't think we missed anything, really. No coups, no celebrity deaths, no US administration embarrassments, unless you count failure to pass health care legislation.