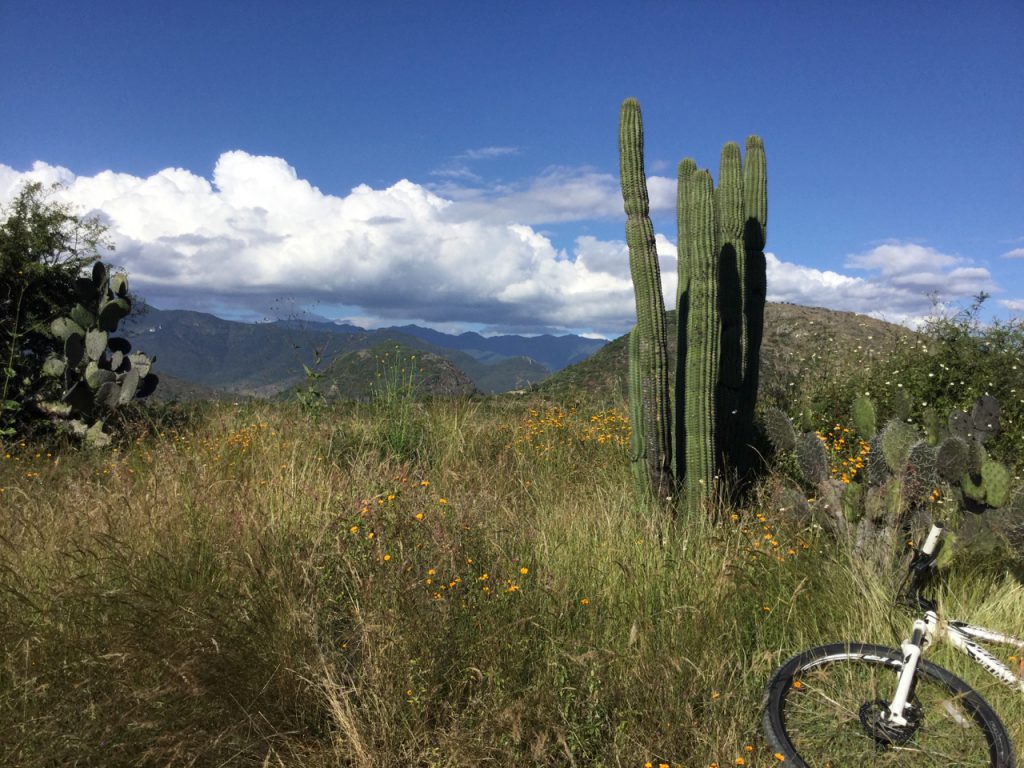 "Maybe we can go on a bike ride this weekend," Cheryl ventured. We'd seen a few cyclists in a group rambling through the valley floor on our excursion the previous Sunday. Lonely Planet listed a few local outfits which visit the outlying villages via mountain bike. It seemed a perfect blend for us – Cheryl would get to see the weavers in Teotitlan, and I would give my legs a break from all this hill running I'd been doing every morning.
About half way home from the Instituto, we passed every day through a nearly deserted plaza, towards an archway which led to the narrow streets surrounding La Betulia. The day before, I'd seen a sandwich board set up outside a tiny office, advertising "Zapotrek", one of the companies recommended in the guide book. The office only seemed to be open in the middle of the day, so when it appeared again, I suggested, "Let's go in here, and see what this is all about."
The interior was dark, but not cluttered like so many other Oaxacan establishments. Right inside the door, a round-faced man, young in affect, but rather worn of face, sat smiling in front of a computer. We practiced a bit of our new-found Spanish on him, but it quickly became apparent his English was as colloquial and unaccented as ours.
"We're thinking of taking a one-day mountain bike trip, and wanted to see what you have."
A bit of negotiation followed as Eric, the owner of Zapotrek, took his time learning just what we wanted: Do some mellow riding, nothing really hilly, see the local villages, and maybe include a trip to the weaving town of Teotitlan, for Cheryl. Oh, and we wanted to leave between noon and one, so we could go to the Instituto in the morning, tomorrow.
Zapotrek usually did their day trips starting at sunrise, or 7 AM. But Eric probably had no clients for the next day, so decided he could flip things around, and take us on a spin in the afternoon, "When it's hotter, so we usually take a siesta," he said, laughing. He wanted to pick us up at La Betulia, which was only about 600 meters away, on foot, that is. The combination of the one-way streets and the traffic meant it was way easier for us to come to him then vice versa.
So we showed up about 12:20, and found a 12 passenger white van gleaming under the tropical mountain sun. A lean older man had just finished polishing off invisible dirt, and started to load four bikes. His right pant leg was tucked into his sock, a tell-tale sign of a serious town cyclist.
Eric came out, smiling as always, and introduced Israel, who would be our driver. He threw a few water bottles and helmets into the back, and invited us to hop in.
We headed East out of town, immediately getting trapped in a "pop-up" demonstration. A small articulated truck was jack-knifed across the main highway. "The city workers don't like how they are being treated by the government," Eric noted, "so they stage wildcat strikes every now and then.
"How do the people feel about the government?" Cheryl asked.
"Well, about ten years ago, things were very bad here. The government was so corrupt, the people literally threw them out. For six months, no one was in charge. Local neighborhoods started providing their own protection. Everyone recognized the value of having a central authority, that actually cared about the needs of the people. Oaxaca is 80% indigenous, Zapotec, mostly, like me. So the new government is more in line with that, not the mestizos like before."
"You're Zapotec?"
"Yeah. I was born here, in Tlacolula. My parents, when I was ten, went to the Untied States, took me with them." Eric said nothing about how they entered, whether it was legal or not. "I grew up in Anaheim, just a regular kid. I forgot how to speak Spanish right, and just wanted to be American. I did good in school 'cause my parents made me, so I ended up at UCLA, graduated there. But a few years later, when my parents had gone back to Mexico" – again he said nothing about why or how – "I went back to visit them. I was old enough to understand my heritage finally, that I am Zapotec. I saw how the local people here don't necessarily get the best deal or opportunity in their lives. So I decided I would come back and see what I could do to combine a lot of things. I'd learned to like being outside in California, biking and hiking. I wanted the world to know about the Zapotec people, their history from before the Europeans came. And I wanted to do what I could to bring some of that wealth which was coming into the state, from the tourists, to the local people, not just the big corporations. So we founded Zapotrek, to do all that."
As Eric was talking, Israel had found a way around the blocked roads, and we were driving by one of the innumerable churches which pop up everywhere in downtown Oaxaca City. "Look, there, that's the church of San Matias Jalatlaco. They're having a special night tomorrow, a Day of the Dead contest for dogs. The dogs dress up like everyone else does for Dia de Los Muertos. It's really something, maybe you want to come see it."
(To Be Cont'd)