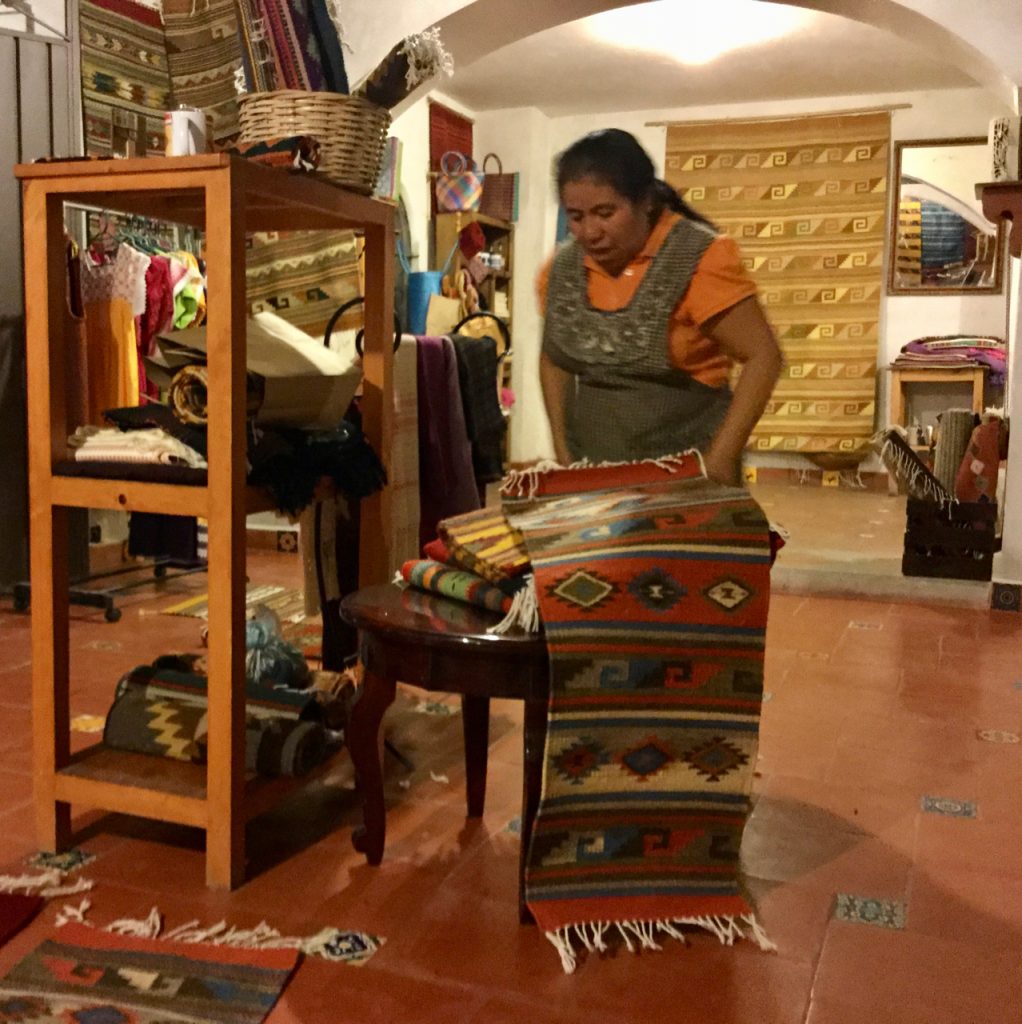 "We'll drive out to Tule, and start our ride from there," Eric continued, once we'd left the chaos of downtown Oaxaca. We were slowly making our way along a crowded street, rather than taking the main Carretera Internacional a few blocks north, the same highway I had been running beside the past week. Soon, we merged onto the local version of a freeway, but immediately left when it dipped south. We landed on a shaded, divided boulevard, with a small path down the center median.
"This is the bike path you can take from Oaxaca to Tule, but we'll stop there, Israel will find a place to park, and we'll get something to eat. Oh, and there's a local attraction in Tule, the Tule Tree."
"Right, we saw that on our tour last Sunday," I offered. At first, it had seemed a little odd to be taken to see a tree. I mean, sure, there are Sequoias and Redwoods which are massive, or tall, but I doubted anything like that grew around here. However, in a protected greensward, part of a larger plaza next to the local cathedral and mercado, stood a quite impressive tree, looking something like a cross-between a cedar and a banyan. While it rose about 75 feet up, and had a full head of evergreen needles, it was the girth of the trunk which astounded us.
Probably wider than any Sequoia, it seemed to take up an entire city block. Simply circumnavigating the thing took several minutes. It was definitely worth a stop. Luckily, though, Eric had as little desire to return to the Tule Tree as we did, and took us instead to a deserted restaurant just south of the church. So far, this bike trip was getting off to a rather slow start, and things did not move any more quickly once we'd finished eating, as our next stop was to a local healer's shop.
"Her mother was the healer for my family. When it came time to have babies, or just make a big decision about something in our lives, she was the one we went to. Now, her daughter has learned those ways, and keeps up the tradition."
The shop was dark and narrow, but a beaming Zapoteca, thirty-ish, led us past the little skeleton and skull knick-knacks she had on display. Eric continued, "She knows how to tell you all about yourself, by consulting her charts based on your day of birth." Which she proceeded to do, in Spanish, with an instant translation by Eric. I think they had done this bit before. Sort of like a pre-Aztec astrological reading.
It worked, at least enough for us to buy some local tea and spices from her. This seemed to please Eric enough, that he led us back to the van, where Israel had our bikes ready for us.
And off we went, following level dirt roads from village to village. Each small town had its own church and market which Eric dutifully pointed out. But the main pleasure at this point was simply pedaling along the gentle Oaxacan country-side. Past farms and canals, through groves of pea-green brush, snaking beside stands of cacti, with the ever-present mountains ringing the valley, grabbing clouds to grace their crowns.
The hamlets had not yet been restored or razed, so the buildings sported a decaying artifice which Cheryl found irresistible.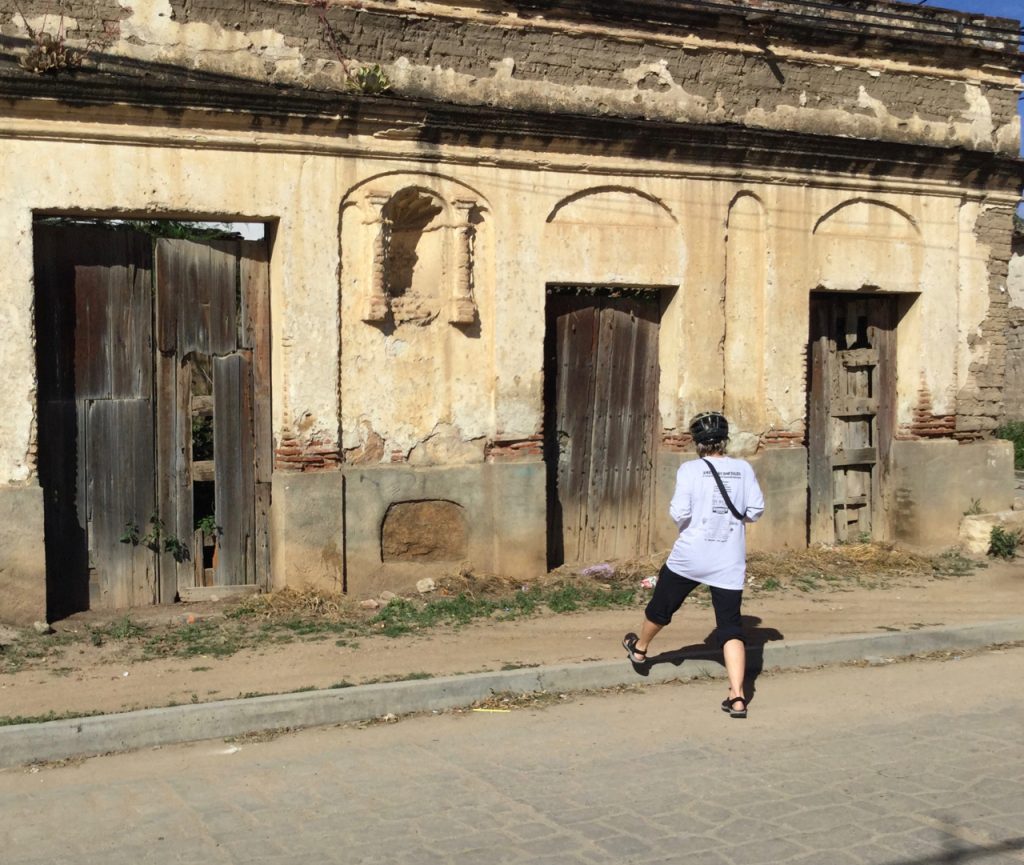 About an hour into the ride, we headed up the only hill of the day, to a cache of ruins, the Dainzu archeological site. Oaxaca is littered with the remains of pre-Columbian cities, from a variety of cultures, not just Aztecan. Monte Alban, within the city limits, and Mitla, a large complex which has been thoroughly surrounded by gift shops and street food vendors, are the largest and most famous. This little site, however, was deserted. We spent an hour climbing up the stair-stepped pyramid, where Eric claimed human sacrifices had been documented. We explored an underground grotto, said to be a tomb for royals. And we imagined playing the local ball-game on the rectangular playing filed, surrounded by what looked like a seating gallery.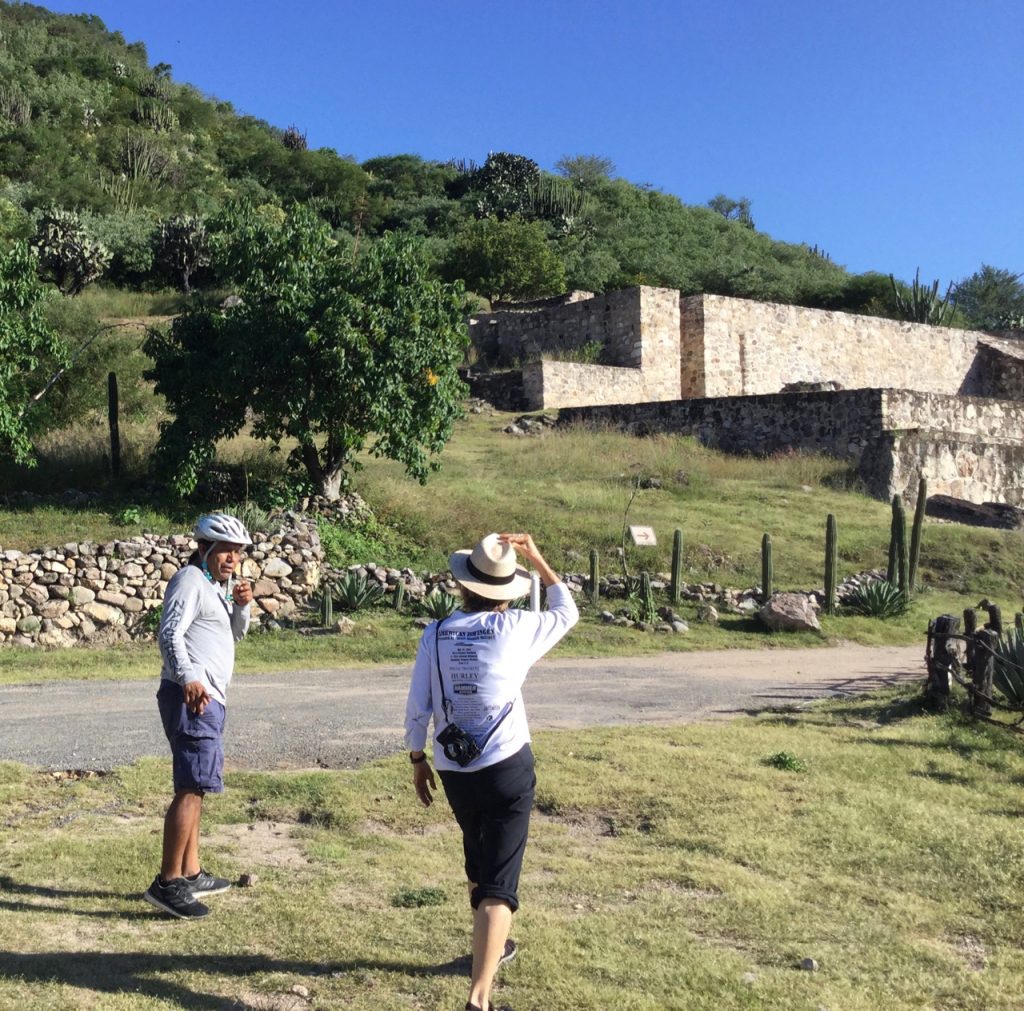 "Actually, the people watched from up on top. Those stair-step walls were really part of the field. The best players could make killer bank shots using those blocks. It must have been maddening trying to get a carom right – a lot harder, then tennis," Eric laughed.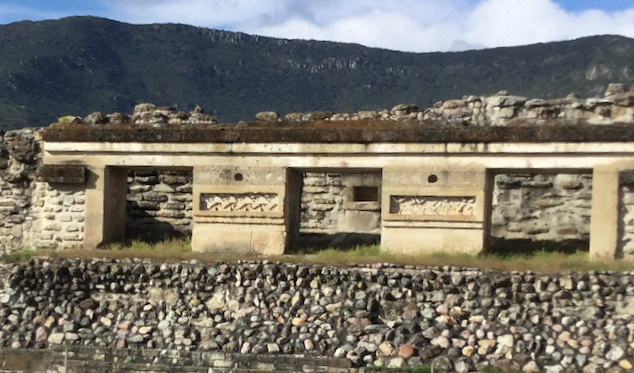 The day, though mild, was still drying, so we finished off several of the water bottles Israel had loaded, and off we went on the final leg of the trip – to the village of weavers, Teotitlan. To get there, we went about 5 kilometers more up a gradual double track gravel road, and into the cobbled streets of town. Every store front, it seemed, boasted of the woven goods within, and Cheryl was eager to stop and look. It was getting past 6, near sunset, and she worried the shops would close, and she would not get her goal for this trip – photos of women working on hand-woven rugs.
But Eric seemed determined to get us to the top of town, where, naturally, another church awaited. We managed to convince him we really didn't need to spend long on the interior, no matter how alluring the hand-painted scenes within.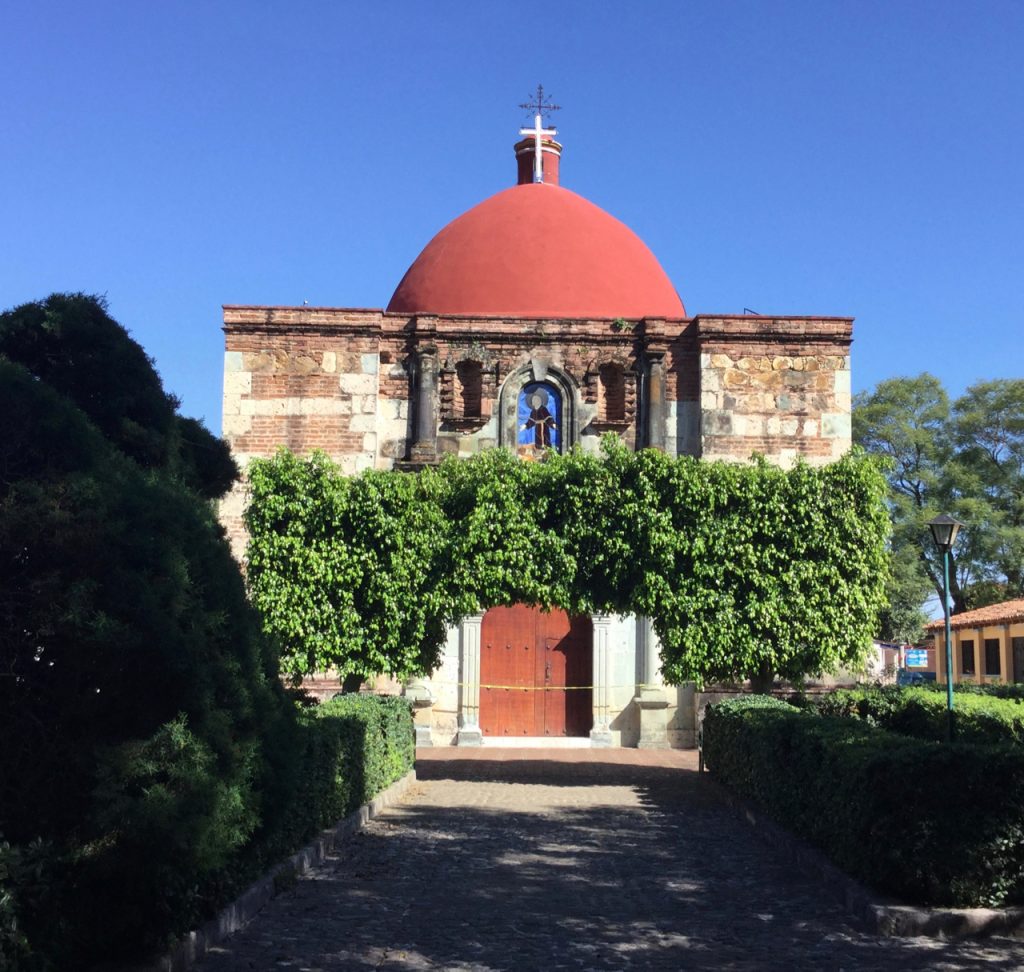 So we walked down the street half a block, and entered the first open door we saw. The large space within belied the modest stucco exterior. Based on old Spanish colonial hacienda architecture, the place was filled with rooms, open courtyards, and, most of all, brightly colored textiles full of the Zapotec-inspired geometric patterns.
"Which one of these do you think I should get?" Cheryl showed me a couple of narrow rugs, or various widths and lengths. Some were earth-toned, some were brighter blue pastels, and some a deep blood-red. But all featured patterns reflective of the carvings we had seen across the arches and roof beams in the local ruins, a distinctive jagged image which embodied the past and present here in Oaxaca.
Cheryl managed to limit her purchase to several rugs, hoping that one would be the right size of our dining room table. It was now past dark, and we still had an hour's drive home, so I became anxious when the cheery abuelita insisted she had to finish the textile by tying off the decorative white strings at each end, "so they won't un-ravel."